Meet the Mana'o Radio DJs – Randall Rosepond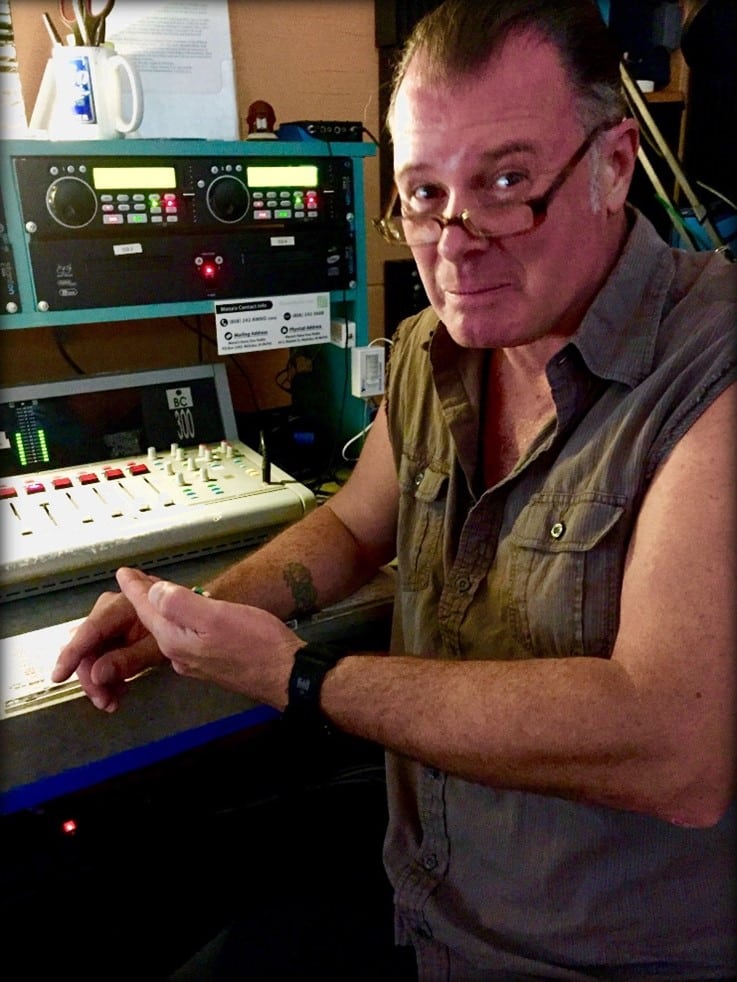 Mana'o Radio: Volunteer run, commercial free, with over 40 DJs who program their own unique shows – Really! This series of interviews is designed to help you meet some of these fascinating DJs – coming from diverse locations and musical influences, often musicians themselves, all with stories from their backgrounds, musical journeys, and passion for the music they share.
Let's meet one of our amazing DJ Musicians, Randall Rosepond. You can catch his show ever 1st & 3rd Saturday from 10 am to 2 pm. You can also catch his show later or replay it at Mana'o Radio by clicking the green On Demand button.

How did you get started at Mana'o Radio? Why did you want to be a DJ on this station?

I had worked with CKLN college radio in Toronto, Ontario, Canada in the 80's, as well as having my own radio show in my hometown of Oshawa , Ontario , Canada; where I booked, recorded and broadcast local musicians in the 90's. I originally moved to Maui in 1992 and traveled back to Canada to perform, as well as continue my radio associations.  

When Mana'o Radio began on Maui, I was an enormous fan and performed at numerous concerts / benefits for the station while also becoming friends with the late Barry Shannon and Kathy Collins, the original founders  Our conversations quickly led to my radio past and then inevitably my own Mana'o program well over 16 years ago.

As a child I was a huge fan of Wolfman Jack and had the opportunity to hang out with him during his tour w/ the Guess Who in 1974 at age 13 … I was forever changed!

Describe your show — what type of music do you play, what's the vibe? What should the listener expect?

My program is originally inspired by 70's FM radio formats that "AVOIDED" top ten songs and commercial styled music. Not to say I won't go there. However, my personal preference has always been something a little more "out there."

Being a huge music fan from childhood, my Mother loved Elvis, my Aunt worked for a record store and got me advance copies of Beatles releases, which at times were a little unnerving for my young 6 yr. old mind … "I am the walrus",  "Blue Jay Way" etc. = ha ha !  But many years later, the mysterious and off beat appealed to my imagination, mixed with relaxed favorites from a more peaceful time in my life, for example:
Herb Alpert and the Tijuana Brass'  "Whipped Cream".

You may hear the poetry of Kerouac, Ginsberg, McClure interspersed with Bob Wills and the Texas Playboys, Tom Waits, Ani DiFranco, the Mattson 2, Bill Frisell, Miles Davis, The Band, Don Ho, Gordon Lightfoot, John Trudell, the Grateful Dead, the Meters, Patti Smith, the Clash and of course Frank Zappa.  From Folk to Jazz to Easy Listening to Spaghetti Westerns!

What's your philosophy about music; why does it matter in our lives?

"Information is not knowledge.
 Knowledge is not wisdom.
 Wisdom is not truth.
 Truth is not beauty.
 Beauty is not love.
 Love is not music.
 Music is THE BEST."
— Frank Zappa

Why is independent, commercial-free radio important?

TRUE Art, Music, Literature  and Important Thought … exist outside of the monetary world … not to say they are independent of finance and money, but there is a degree of compromise that exists in the world of mainstream consumerism  – especially Radio, often with an enormous degree compromise and manipulation.  

For instance: when the most powerful and popular purveyor of art or thought – or radio station in this specific instance … decides you are going to hear their chosen "artist # 4's song" twice every half hour during their daily programming, then you end up with a little bit of a "Pavlov's Dog" scenario, in which the listeners are actually being repetitively programmed a specifically chosen  "product"  for reasons that may ultimately be  leaning towards a favoritism or an intended advantageous outcome for certain connected business concerns between the programmer and the associated business whose products are being "pushed".

This repetition over time becomes "reflex" in some listener's minds which appears to be their natural preference. It's sort of a conditioned appreciation.  If you hear it enough, you are more inclined to sing it yourself, and perhaps like it?? Commercial free radio offers an alternative to the mainstream. 

I must say … I present my personal "Top 40" on a somewhat regular basis with the same intent of eliciting a familiarity for those specific songs with my listeners. Although, I rarely question my own taste — Ha Ha!!

You can also visit Randall's website for more Mana'o and recorded videos at www.randallrospond.com 

Tune into The Randall Rosepond Show 10:00AM to 2:00PM  every 1st & 3rd Saturday on KMNO 91.7FM or streaming live here at ManaoRadio.com.

If you miss a show, no worries. You can listen to any show from the last two weeks with our Listen On Demand feature, where you can also check out our full schedule of shows and DJ bios.