Mana'o Radio Is: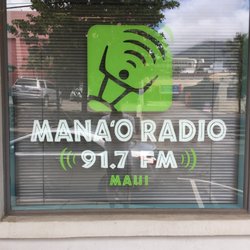 Local community radio since 2002
100% listener-supported
Non-commercial and eclectic music
100% volunteer staffed and managed
Modern 1200-watt FM radio signal
Internet streaming worldwide
Underwriting Opportunities
As a 100% listener-supported station, Mana'o Radio relies on the support of our local community-minded businesses and listeners to operate. Our listener demographic consists of financially viable listeners, with 90% over 35 years in age. As a non-profit station, Mana'o Radio does not air advertisements or promote commercial interests, but we do acknowledge and publicly thank our generous supporters!
Connect with Loyal Listeners
We broadcast 24/7 to the entire island of Maui. Our Internet streams represent a growing share of our audience worldwide, and we currently have more than 3,200 followers on social media.
On the Air
For a one-year underwriting commitment of $100 per month, our hosts will typically acknowledge your contribution each day, up to 32 times per week, in our FM and internet broadcasting.
On the Internet
All KMNO underwriters are featured on our website including a link to your website if desired.
See our current underwriters here.
In Print
Mana'o Radio plans to publish a downloadable program calendar (PDF) containing our weekly air schedule, plus other information of interest to our listening community. In addition, we periodically publish flyers for other local events. As an underwriter, your business name may appear on these documents.