WOLFCHILD: SINGLE RELEASE EVENT AT PROARTS PLAYHOUSE, THURSDAY, JANUARY 26, 7:30PM
January 26 @ 7:30 pm - 9:30 pm
Mana'o Radio Welcomes WOLFCHILD at the ProArts Playhouse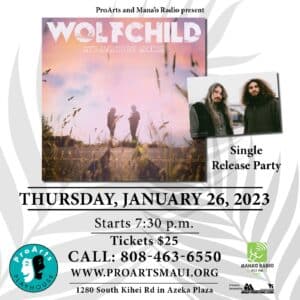 Mana'o Radio welcomes WOLFCHILD as they return to ProArts, celebrating the release of their latest single and bringing the mesmerizing singular sound of brothers Gabriel and Elion.
WOLFCHILD is a Seattle-based Cinematic Folk Rock band with influences ranging from the immersive earthy sounds of Gregory Alan Isakov, Lord Huron, and The Paper Kites to the contemporary experimentation you might expect from Bon Ever, Fleet Foxes, or Andrew Bird.
They have performed on stages such as The Troubadour, KEXP, Oregon Country Fair, SXSW, Folklore (UK), Java (Paris), Mississippi Studios, Georgetown Carnival Main Stage, Capitol Hill Block Party, Sessions Music Hall, and many more.
Again, WOLFCHILD single release event happening at ProArts Playhouse in Kihei on Thursday, January 26th.
Tickets: $25
Run time 2 hours