Mana'o Radio 21st Anniversary Celebration: Sunflower Farm Music Fest 2023
April 22 @ 9:00 am - 5:00 pm
Mana'o Radio Turns Twenty-One in 2023!
That's right! Maui's only all-volunteer, 100% listener-supported, non-commercial radio station has been around for 21 years! 
Do you think that calls for a special, one-of-a-kind celebration? We do too!

Mana'o Radio is thrilled to partner with Pacific Biodiesel again this year to present a daylong benefit concert at Bob and Kelly King's Maui sunflower farm. In celebration of our 21st anniversary, the concert event will raise funds for Mana'o Radio, and it will focus on an urgent issue close to home: food security in Hawaii.
Today, Hawaii imports nearly 90% of its food. Our island state's food supply is extraordinarily vulnerable to supply chain disruptions, natural disasters, and other emergencies.
In addition to raising funds for Mana'o Radio, this benefit concert will also raise funds and awareness for Hawaii Food Hub Hui, which encompasses 14 food hubs around the state that work together to support Hawaii's small an mid-sized farms.
The event will take place on Earth Day 2023 (Saturday, April 22) and feature live performances by local musicians along with farm tours through a blooming sunflower field and a festival zone with educational displays, food trucks, and farm stands.
Tickets are $100 each and must be purchased online in advance. Parking will be a $5 minimum donation per car at the gate (cash only.) 100% of ticket sales and donations, as well as a portion of the proceeds from farm stand and food sales during the event will benefit Hawaii Food Hub Hui and Mana'o Radio. 

***EXCITING NEWS!
Julia Gargano will be joining Kerry Brown's highly anticipated Licorice Pizza Jam Session headliner set. Julia was voted fan favorite of the 2020 American Idol season (Click here to watch the highlight reel) which led to a performance on LIVE with Kelly and Ryan. 
***EXCITING NEWS! Multi-platinum music producer, artist manager and event producer Kerry Brown will headline the Sunflower Farm Music Fest with his "Licorice Pizza Jam Session"…..He has also announced he will record the all-day live music event and produce a limited edition vinyl LP! Each person who purchases a ticket to the event will receive a copy of the vinyl record compliments of Licorice Pizza Records!! Read the full press release here.
Kerry Brown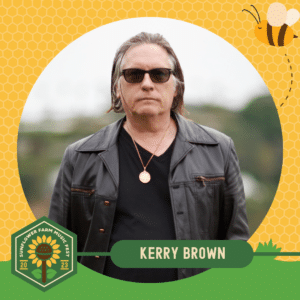 With more than three decades in the music business, Kerry Brown is involved in the marketing and production of over 50 million records sold.
Licorice Pizza Records
is Brown's independent label in Studio City, CA that includes a record store and vinyl pressing plant.

A musician, Brown began his career as a drummer and performed with The Smashing Pumpkins. Throughout his career, he has worked with hundreds of music partners and collaborated with iconic superstars such as Miley Cyrus, Ziggy Marley, Paul McCartney, Foo Fighters, Courtney Love, Nine Inch Nails, Depeche Mode and Jason Mraz among many others. Brown has produced, executive produced and consulted on numerous high-level entertainment projects, including the gala "HEAVEN IS ROCK AND ROLL" at the Hollywood Palladium, reuniting the surviving members of Nirvana (Dave Grohl, Krist Novoselic & Pat Smear) with St. Vincent, Beck and Violet Grohl as well as L7 and Cheap Trick.
Born on ʻOahu and now a Maui resident, Brown was eager to support this event to raise funds for this important cause here at home. "My philosophy with Licorice Pizza and all of my companies is creating community – ways for families, friends, and strangers to connect through the world of music," explains Brown. "I believe in giving back to the community that helped shape me. This is what music culture is all about."
******   21 Day Ticket Giveaway   ******
As part of Mana'o Radio's 21st Birthday Celebration, we will be counting down
the 21 days until the Sunflower Farm Music Festival on Earth Day, April 22, 2023.
Starting April 1st and continuing through April 21st, we will be giving away a free ticket (worth $100) each day.
Tune in to KMNO 91.7FM between around 2pm and 5pm HST and call Mana'o Radio at 808-242-5666 when the DJ announces the ticket giveaway. The DJ will designate which number caller wins.
Winning callers will be contacted to arrange for receipt of their free ticket.
Maui musicians performing for this daylong concert are:
9am to 9:45 – Leiohu Ryder blessing & George Kahumoku, Jr.
10am to 10:45 – Drew Martin
11am to 11:45 – Sting Kong
11:45 to 12:15 – Intermission
12:15 to 1:00 – Soul Kitchen
1:15 to 2:00 – Brown Chicken Brown Cow String Band
2:15 to 3:00 – The Lonely Hearts – Beatles and Beyond
3:15 to 4:00 – Marty Dread with Gretchen Rhodes & the House Shakers
4:15 to 5:30 – Licorice Pizza Jam Session with Kerry Brown & friends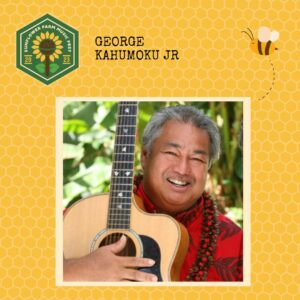 George Kahumoku Jr. is a musician specializing in slack-key guitar. Born in Kona on the Big Island of Hawai'i, he has been labeled a Hawaiian "renaissance man." He received the 2007 Grammy Award for Best Hawaiian Music Album for the compilation album Legends of Hawaiian Slack Key Guitar–Live from Maui. Last year he was among a handful of musical artists to receive the Hawai'i Academy of Recording Artists' 2022 Lifetime Achievement Award. Facebook, Instagram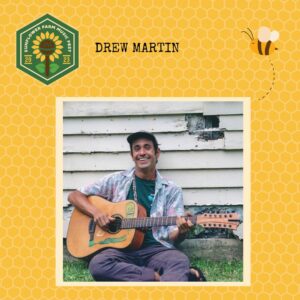 Drew Martin is a dynamic singer-songwriter with string stylings of his own. This proficient player is known as "Maui's answer to Bob Dylan." He's highly respected by his musical peers and his songs are inspired by the elements of such sacred places as Mauna Kahālāwai and 'Īao Valley. Instagram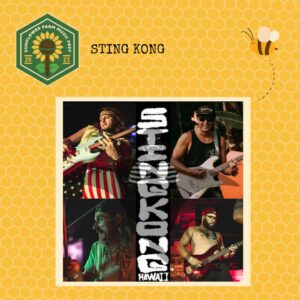 Sting Kong is a four-piece band of renegade surf rockers from Maui's Westside with the chops to get everyone barreled with them on a plunging party wave! Instagram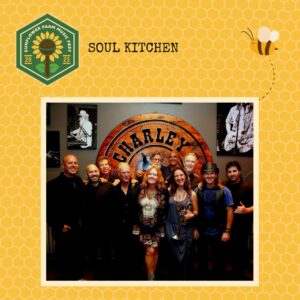 Soul Kitchen has been entertaining audiences with their upbeat Zydeco/Soul style for almost a decade. The big band has become a staple of the Maui music scene. Soul Kitchen will give you the horns, drums, beats, bass, and powerful vocals that make you wanna stomp your feet! Facebook, Instagram
Soul Kitchen Maui – Voodoo Workin' from Canvas Bag Media on Vimeo.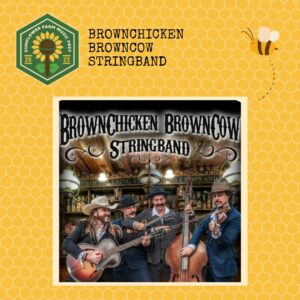 Brown Chicken Brown Cow String Band's musical roots originated in the Appalachian Mountains of southern West Virginia. The talented multi-instrumentalist band members are Orion Hitzig, Xander Hitzig, Matt Del Olmo, and Justin Morris. Their lively engaging music is influenced by bluegrass, gypsy, folk, old-time standards, Celtic, and classical. Facebook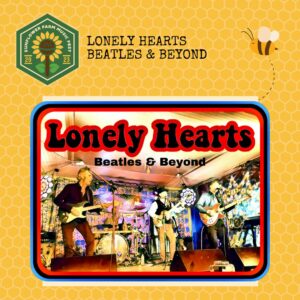 Featuring Austin Hutto, Steve Morris, Jimmy Dillon, and Justin Morris. Performing classics by the Beatles and other Beatles-inspired music.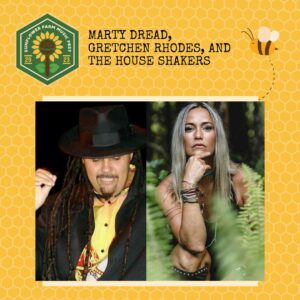 Marty Dread and Gretchen Rhodes will be joined by the House Shakers. The House Shakers are made up of 4 of Maui's most respected musicians and have backed up some of the top vocalists from Maui and beyond. Marty Dread is one of the most sought-after performers on island. In recent years he has expanded his repertoire well beyond Reggae to include many classic R&B and Soul tunes. Gretchen Rhodes serves up a powerful blend of soulful blues and rock that captivates audiences far and wide. Warning: this band will get you dancing! Marty: Facebook, Instagram. Gretchen: Facebook, Instagram.

EVENT DETAILS
At the Event: Seating under the event tent will be provided. To minimize waste, please bring your water bottle to refill at complimentary water stations on site. No alcohol or coolers. Visitors to the farm are encouraged to wear comfortable closed-toed shoes. Please use caution while walking site; this is a private, working farm with uneven ground and rocks. Wearing hats and reef-safe sunscreen is also recommended at the farm site, which can be hot and windy. No pets or strollers please.
Farm Tours on biodiesel-fueled vans will be provided by Hawaii Tours at scheduled times throughout the event. Due to limited availability, these complimentary tours must be reserved in advance e and are on a first come, first served basis. When purchasing your ticket, please indicate your interest in making a farm tour reservation and our team will be in touch with you to coordinate those details.
Festival T-Shirts: By popular demand, we are selling t-shirts featuring the event logo! Shirts sold online in advance are $20 each and ONLY available when purchased with an event ticket. Select the red "Get Tickets" button to buy your ticket and scroll down to order your shirt. Shirts are only available for online purchase before 9AM on April 2nd, and must be picked up by the ticket-holder at the Mana'o Radio booth at the event (bring your e-ticket receipt). All sales are final; no refunds will be issued for shirts purchased online in advance. A limited supply of shirts will also be available for purchase at the event for $30 each. Proceeds from shirt sales will go to Mana'o Radio.
Parking: Parking will be a minimum of $5 cash donation per car at the gate. Donations go to American Red Cross whose volunteers are helping to staff the event and medic tent. Credit cards will not be accepted. Due to limited parking at the farm, carpooling is encouraged. A complimentary cut sunflower bloom will be given with each parking donation. Vehicles must enter the farm through the main gate located on Honoapiilani Highway just north of the Kuihelani Highway intersection (look for the yellow gate near the silver farm silos.) As a reminder, the state has posted no parking signs on both highways alone the perimeter of the farm. The farm gate will open at 8:15am.
For more information, call Pacific Biodiesel at (808) 866-5101 or email info@biodiesel.com
To learn more about Hawaii Food Hub Hui, the nation's first and only food hub group of its kind, visit the Hawaii Good Food Alliance.
Mahalo to our Sponsors: Michael and Deborah Rybak, Horovitz & Tilley LLLC, Brain Waves Maui of Galler Rimm Behavioral Health, Manawai Farm, and Lowenthal & Lowenthal.