JAZZ MAUI & MANA'O RADIO PRESENT TOMMY JAMES PLAYS THE MUSIC OF THELONIOUS MONK, AT PROARTS PLAYHOUSE ON FRIDAY, FEB 24
February 24 @ 7:30 pm - 9:00 pm
Mark the date Friday, February 24 at 7:30pm as Jazz Maui,
ProArts Playhouse, and Mana'o Radio present renowned
pianist Tommy James, playing the music of Thelonious
Monk at ProArts Playhouse in Kihei!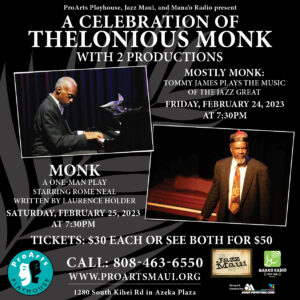 Besides being a wonderful jazz pianist, Tommy James is a
composer, arranger, and music director. He has been the
pianist and music director of The Duke Ellington Orchestra
for the past nine years and has worked with a wide-
ranging group of artists of many musical genres. Among
the outstanding artists and bands with whom he has
performed and/or recorded with are The Duke Ellington
Orchestra, Lionel Hampton, Joe Williams, The Spinners,
and The Temptations.
For tickets and information go to www.proartsmaui.org.
Don't forget, that's February 24, 2023 from 7:30-9:00PM at
ProArts Playhouse in Kihei.
A portion of each ticket sold benefits Mana'o Radio!
Tickets
$30 General Reserved Seating
$35 VIP (best-view seats in small groups with their own side tables)
Special $5 Discount per ticket if you also buy a ticket for the Jazz Maui production of MONK the following night
Run time: 110 minutes with intermission.