DAYAN KAI AT PROARTS PLAYHOUSE, FRIDAY, FEB 10TH, 7:30PM
February 10 @ 7:30 pm - 9:00 pm
Mana'o Radio Presents Dayan Kai at the ProArts Playhouse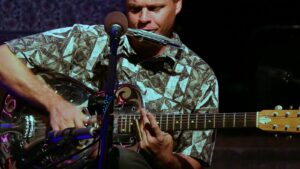 Dayan ("DAY-uhn") Kai is a true force of musical nature. An artist whose abilities and style know few bounds, Dayan is known for his soulful voice, powerful songwriting, and multi-instrumental prowess.
"Dayan is perhaps one of the most complete and talented musicians…not only is he a dazzling multi-instrumentalist, but also a soulful vocalist with a stratospheric range and a poignant songwriter who knows how to heal with his compositions."
Born on the island of Maui, Dayan grew up bouncing between Hawaii and California. He has toured and performed extensively across the US, Canada, Europe, and Australia as a solo artist and with many artists including Keith Greeninger, Joe Craven, Jimmy Dillon, Wilmont Kahaiali'i, Melissa Crabtree, and many others. On the island of Maui he performed in 'Ulalena and then served as the musical director and multi-instrumentalist for Burnin' Love.
This intimate solo show will feature Dayan Kai's original compositions inspired by nature, love, and the humor of our social predicament. His artistry touches various intersections of acoustic blues, jazz, Americana, folk, Hawaiian, and world music. His songs touch the deep chords of our humanity and connect us with ourselves and each other. Kai will primarily play piano and guitar, but you can bet there will be some other instrumental surprises throughout the evening.
Dayan Kai's supersonic voice is big enough to cause a tidal wave one minute and rich enough to turn a choppy sea into a smooth clear lake the next. And then there is the phalanx of instruments he has mastered and the stunning song craft. Dayan Kai is a talent mightily personified and an absolute joy to experience.
TICKETS
Kama'aina ONLY $20!!!
Regular price $25
$30 VIP (best seating positions in small groups with their own tables)
$15 Keiki