CELEBRATE PAUL JANES-BROWN'S 75TH LAP AROUND THE SUN, THURSDAY, FEB 23RD, 5-9PM
February 23 @ 5:00 pm - 9:00 pm
Mana'o Radio Presents PAUL JANES-BROWN'S 75th Lap Around the Sun at Mulligan's on the Blue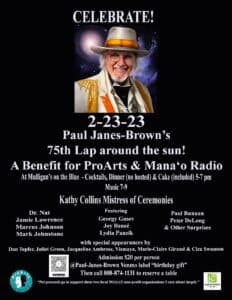 Mark the date, February 23, for a fundraiser for Mana'o Radio and ProArts Playhouse at Mulligan's on the Blue in celebration of our very own Paul Janes-Brown's 75th lap around the sun!
Featuring Kathy Collins as Mistress of Ceremonies, and musicians Dr. Nat, Jamie Lawrence, Marcus Johnson, Mark Johnstone, Georgy Gusev, Paul Bunyan, Peter Delong, Joy Renee, and Lydia Panzik. There will also be special appearances from Dan Tepfer, Juliet Green, Jacqueline Ambrose, Vismaya Hagelberg, Marie-Clare Giraud, and Ciza Swanson.
No host cocktails and dinner from 5-7pm including cake, then music from 7-9pm.
For tickets, send $20 to Venmo @paul-janesbrown with the label "birthday gift."
Don't forget, that's February 23, 2023 from 5:00-9:00pm at Mulligan's on the Blue. It will be the Alpha & Omega of events!
A portion of each ticket sold benefits Mana'o Radio!