BENNY UYETAKE AND KALAMA INTERMEDIATE SCHOOL UKULELE CLASS WITH SPECIAL GUESTS, SUNDAY MARCH 5, AT 2:00PM
March 5 @ 2:00 pm - 3:30 pm
BENNY UYETAKE AND KALAMA INTERMEDIATE
SCHOOL UKULELE CLASS WITH SPECIAL GUESTS,
SUNDAY, MARCH 5 AT 2:00PM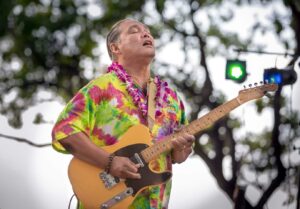 Beloved educator and music icon, Benny Uyetake, returns
to ProArts Playhouse and brings the students of Kalama
Intermediate Ukulele of Makawao with him.
This show will also feature Rama Camarillo and Special
Guests.
This is a special afternoon matinee show at 2:00pm on
Sunday, March 5.
More details and tickets are available at:  www.proartsmaui.org.
A portion of each ticket sold benefits Mana'o Radio!