Beyond the Dial: Meet Sweet Mama Dee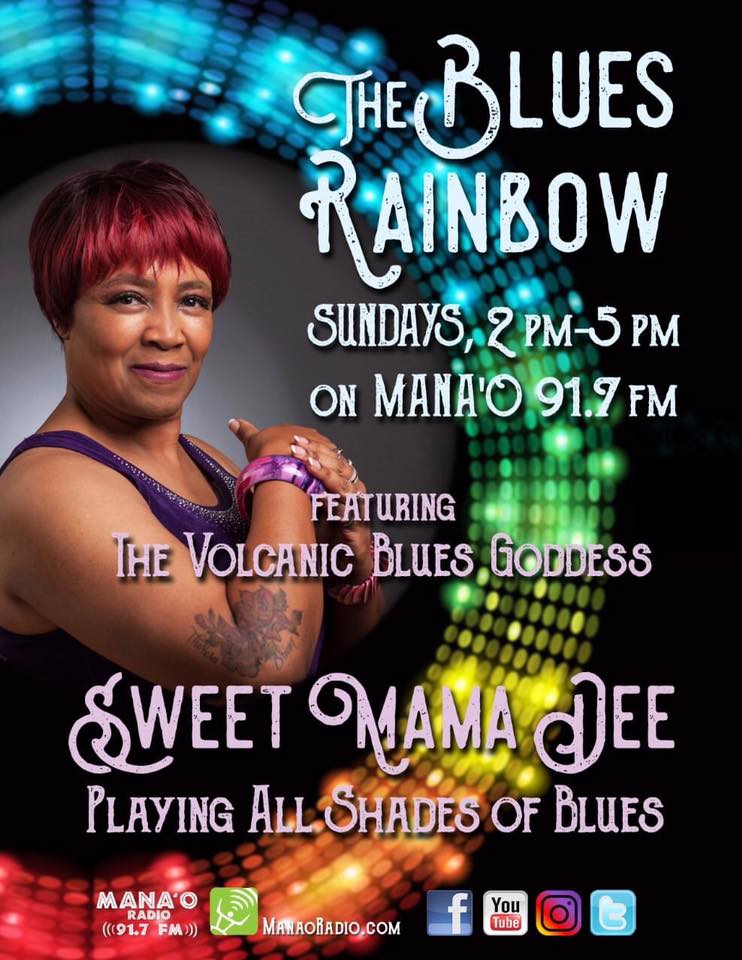 Volunteers, totally commercial free, and over 40 DJs who program their own unique shows – That's what you'll find only on Mana'o Radio 91.7 FM. This series gives you as opportunity to meet some of the fascinating DJs. As expected, they come from musical influences and diverse locations. Often musicians themselves, they love to share stories of their backgrounds, musical journeys, and passion for the music they share with you.
This month we are privileged to learn and get to know more about our own Sweet Mama Dee! We call her a legend because here at Mana'o Radio and on Maui, she has indeed earned that title. Whether sharing her love of the blues, hosting and performing at KMNO fundraisers or raising her voice in song, Maui just would not be the same without her. She hosts "The Blues Rainbow" show every Sunday from 2 pm to 5 pm. You won't want to miss it, but you can get a second helping, by visiting her The Blues Rainbow page on KMNO and selecting an archived show! You can also catch her show later or replay it here using our Listen On Demand feature.

How did you get started at Mana'o Radio? Why did you want to be a DJ on this station?

I contacted Mana'o Radio in 2014 to inquire how to volunteer. I was trained by Bill Best. I have been in radio and/or TV since 1974. Volunteering and being involved in the community have always been fulfilling for me.
 
Describe your show — what type of music do you play, what's the vibe? What should the listener expect?
My show is all about the BLUES! When listeners tune into "The Blues Rainbow," they can expect to hear a plethora of eclectic blues tunes. I try to cover everything from the early renderings in gospel tunes to the latest in top of the charts. Hence, the show's name, "The Blues Rainbow," is where we play ALL the shades of blues!
What's your philosophy about music; why does it matter in our lives?

My philosophy is that music is the most universal connector in the world, perhaps the universe. It seems to be the one and only thing we, as humans, ALL understand and share.
Most people are surprised that everyone at this station is a volunteer including all 40+ DJs. Why do you share your time and talent week after week?
I enjoy my "Blues Rainbow" time on the air at Mana'o as my way of sharing my musical blues and pleasure with others that want to hear and understand the roots and meanings of The Blues.

At Mana'o Radio, DJs are able to play whatever music they choose; there's complete freedom with no commercials. How do you think that affects the quality of the music played at Mana'o Radio compared to other stations?

The ability to play whatever music I choose, which in my case is BLUES, is a testament to how listening to BLUES music can teach those listening that the "Blues" can be an enlightening experience. NOT ALL BLUES IS SAD!!

It seems that is the reason many other stations do not play blues often. Blues is a plethora of sad, happy and everything in between.

Where do you find your music? What inspires you as you create your shows?

I get the music for my shows form many different sources. I personally own quite a bit, stemming from 75rpm, 33-1/3 albums 45 rpms, cassette tapes, CD's, and various online music services, not to mention friends in the Blues Biz. I sometimes get inspired by some strange things. For example, I once did a complete BLUES show about food! I called it the "Foodie Blues Rainbow". Inspired by my hunger at the time! LOL!

Why is independent, commercial-free radio important?

Independent, commercial-free radio is important because it gives an alternative to the ad-pushing, product between songs, day-to-day radio we have become accustomed to. A refreshing change to the listening ear.

Do you recommend Mana'o Radio? What do you tell people?

I frequently recommend Mana'o Radio to folks I meet. I tell them to tune in to 91.7 FM for the most eclectic radio station on the island. I promise they will find something they like!

If there was no Mana'o Radio, what would that mean to you?

If there were no Mana'o Radio, to me, it would mean that we need to gather the community to start something like it!!
Don't miss "The Blues Rainbow" with Sweet Mama Dee live every Sunday on Mana'o Radio from 2pm to 5 pm.  You can also catch her show later or replay it here using our Listen On Demand feature.

For more information about Sweet Mama Dee, her music and her show, visit her website at http://sweetmamadee.com/ or Follow her along on Facebook. Watch for the announcement of her newest album called The Blues with Sweet Mama Dee and Mama's Boys.