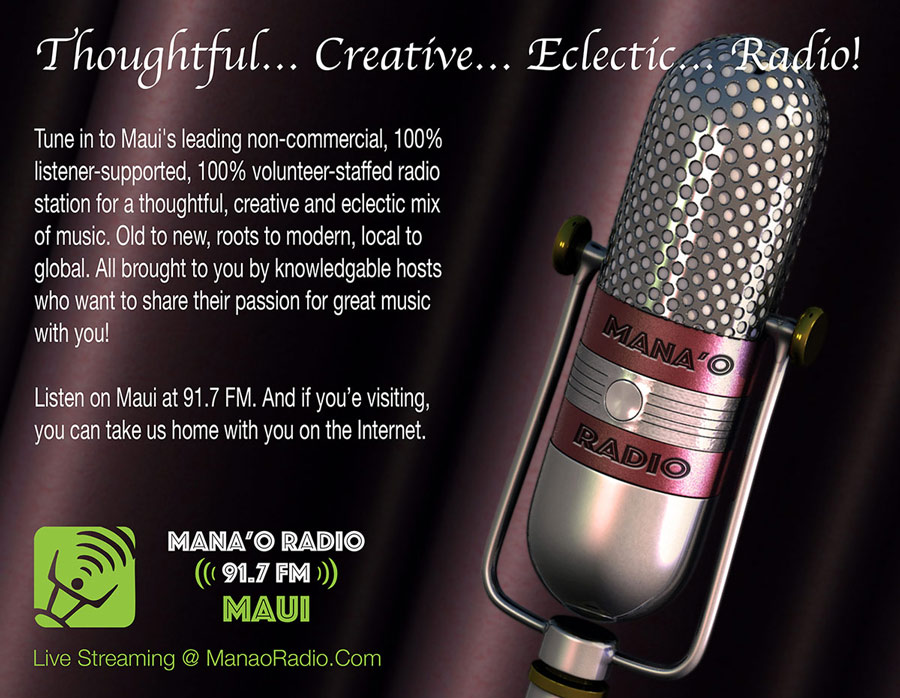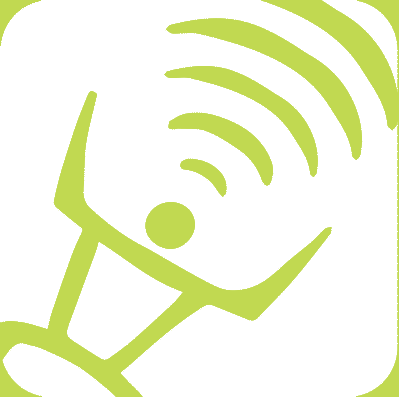 OUR MISSION: To inform, educate, and entertain the Maui community with radio broadcasts of multi-cultural and community-related programming, with special emphasis on the interests and needs of older adults.
OUR GOALS:
Spread cultural awareness and understanding through locally produced educational vignettes

Showcase local musicians, singers, songwriters, authors, and various other artists

Provide accurate and timely reports on the news of the day, both local and worldwide

Expose the audience to a broad range of music, including ethnic and other forms not considered commercially viable

Foster public participation in an ongoing forum for opinions on local issues and concerns
Your contributions are what keeps us on the air!
CHECKS:
Please make checks payable to MANA'O RADIO and send to:
Mana'o Radio PO Box 2203, Wailuku, Hawaii 96793
All donations are tax deductible as current laws allow. Mana'o Radio is a 501(c)(3) non-profit corporation. New Tax ID # 31954

" We found you in our rental car at 5 am last Thursday morning heading up to catch sunrise on Haleakala.  It really got us going, song after song blowing us away—Red Molly, Leadbelly, Afro-beat, Mingus, Chuck Brown—more women than usual too—Norah Jones?   Many we could only guess at. Within 24 hours of being home, we'd both looked  you up online. And I promise—I've never fallen in love with a radio station before. 
Best wishes to you—best music we've ever heard over genre after genre"
-Louisa Davis, an island visitor from Reston, Virginia
Make a one-time donation in any amount. All are welcome!
[gravityform id="2″ title="false" description="false" tabindex="1″]
Support Manao with a repeating monthly donation!
[gravityform id="4″ title="false" description="false"]

For every new subscription, Maui Nō Ka ʻOi will donate 50% to Manao Radio!
Streaming LIVE on the internet 24 / 7
Support Mana'o
You can support commercial free radio right this minute and use your credit card on a secure page to make a donation! . Scroll up, it just takes 1 minute!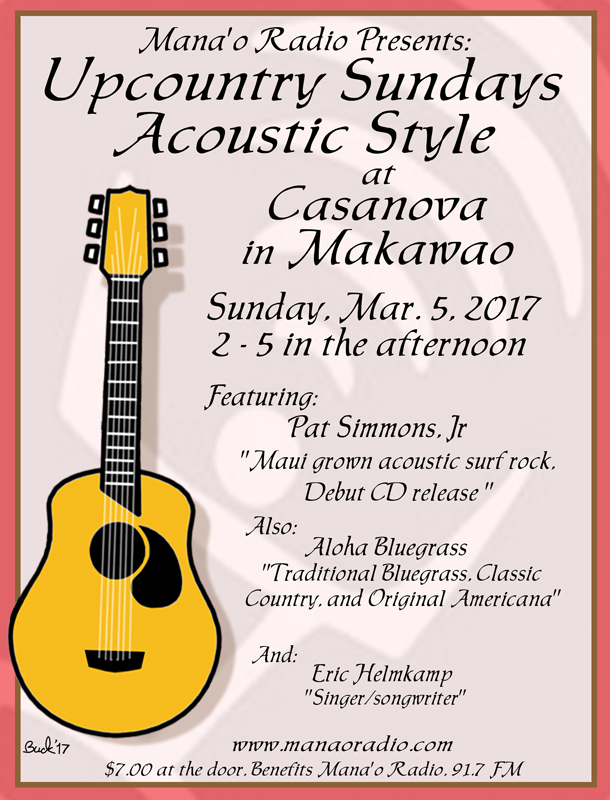 Mana'o Radio, KMNO, 91.7 FM, Maui, Hawaii, invites you to come join us on Sunday, March 5th for Upcountry Sundays Acoustic Style, our monthly benefit showcase. Featuring the best in acoustic music, from both Maui artists and visiting musicians, this long-running show usually happens on the first Sunday of every month at Casanova in Makawao, from 2 to 5 PM. It's a beautiful afternoon of great live music and great friends.
On Sunday, March 5th, we are proud to bring to the stage Pat Simmons, Jr. with his Maui-grown acoustic surf rock debuting his CD release. Also on the bill will be Aloha Bluegrass, performing traditional bluegrass, classic Country and original Americana. Opening this show will be singer-songwriter Eric Helmkamp. All in all, a great way to spend a Sunday afternoon with friends!
Only $7 at the door goes entirely to benefit Mana'o Radio, KMNO 91.7 FM Maui. We would like to welcome listeners old and new to Maui's most eclectic and varied radio programming!
If you can't make it to Casanova, you can still catch the entire show LIVE on our easy-to-use website at http://manaoradio.com/. You can tune in to the show from anywhere in the world, starting at 2:00 PM Hawaii time.
Don't forget that while listening you can also make a donation to listener-supported Mana'o Radio right on our website if you like. Otherwise, just tune in and enjoy the show!
We hope you will join the rest of the Mana'o Radio 'ohana on Sunday, March 5th for an afternoon of great acoustic music. Come eat, drink and be merry with us!
See ya there!
Aloha,
Justin Morris and the
Mana'o Radio Volunteers
---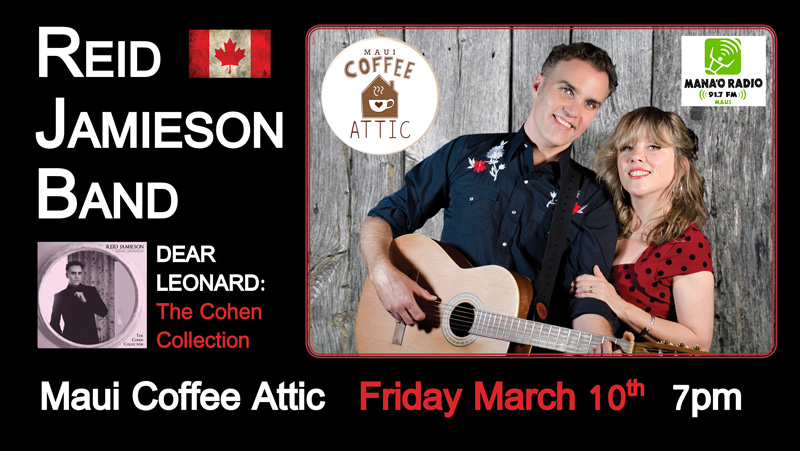 Mana'o Radio, 91.7 FM, Maui, Hawaii is excited to partner with Maui Coffee Attic for a memorable concert with Vancouver Canada's Reid Jamieson at Maui Coffee Attic Wailuku on Friday March 10 at 7:00PM!
Join us! A portion of each ticket purchased will be donated to Mana'o Radio!
REID JAMIESON (Vancouver / Vinyl Cafe) in concert!
MAUI COFFEE ATTIC 59 Kanoa St, Wailuku
Friday March 10th, 2017 – 7pm to 9pm
$20 – Reservations 250-9555 info@mauicoffeeattic.com
Advance tickets available at http://www.reidjamieson.com/HI/
REID JAMIESON http://www.reidjamieson.com/
"Gorgeous, sun-struck acoustic soul" – Globe & Mail
Latest release: DEAR LEONARD: The Cohen Collection ~ "Sublime" – Folk Roots/Folk Branches
Vancouver Canada's Reid Jamieson is a prolific songbird who loves to sing. Known for his compelling vocal performances and therapeutic lyrics, Reid has appeared regularly on the popular public radio show Vinyl Cafe with Stuart McLean, and has recorded with Cowboy Junkies, Sarah Harmer and members of Blue Rodeo and Be Good Tanyas. Alongside his award winning original music, Reid recently released two tasty tributes: The Presley Sessions Revisited, a musical love letter to the 50s era greats; and his latest, a luminous homage to the master of song Leonard Cohen titled DEAR LEONARD: The Cohen Collection. Reid turns the master into the muse with seven compelling covers plus the haunting title track, an original open letter to the man himself. Featuring Anne Lindsay (James Taylor, Led Zeppelin) on burning violin. Performing as an acoustic duo with his long-time songwriting partner and saucy wife, Carolyn Victoria Mill, they are committed to making music that matters. Don't miss this rare opportunity to catch them live!
---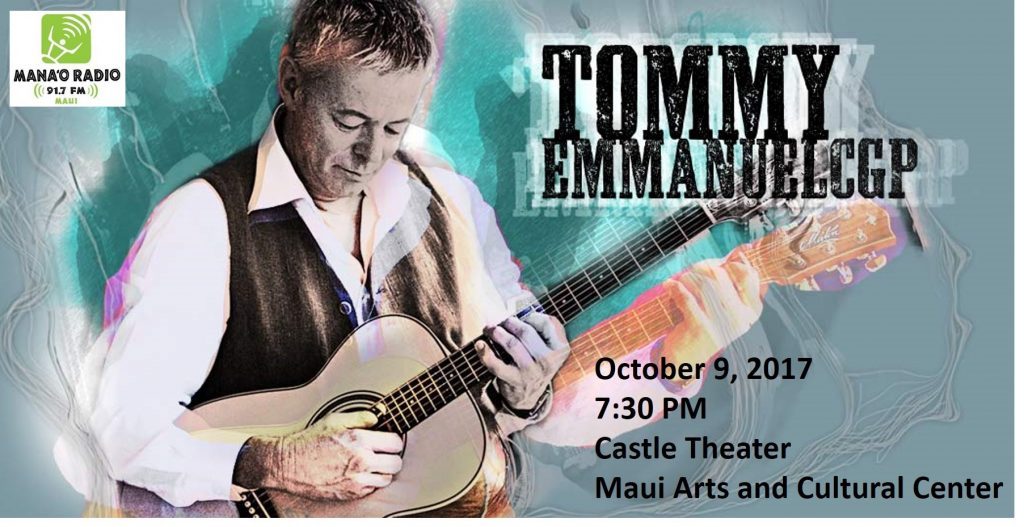 Mana'o Radio, 91.7 FM, Maui, Hawaii is excited to partner with Emporium Presents for a memorable concert with guitar virtuoso Tommy Emmanuel at the Maui Arts And Culture Center's Castle Theater on Monday, October 9 at 7:30PM!
Join us! A portion of each ticket purchased will be donated to Mana'o Radio!
TICKETS AVAILABLE FRIDAY, FEBRUARY 17 AT: MACC BOX OFFICE ● BY PHONE: (808) 242-7469 ● ONLINE at www.mauiarts.org
RESERVED SEATING – BUY NOW FOR BEST SEATS!!
Two-time GRAMMY® nominee Tommy Emmanuel performing in the Castle Theater on Monday, October 9 at 7:30 pm. One of Australia's most respected musicians, Tommy Emmanuel's professional career spans five decades and has garnered hundreds of thousands of loyal fans worldwide. His live shows are known for their humor, performance, passion and infectious joy. He is an Australian virtuoso guitarist and singer-songwriter best known for his complex finger-style technique, energetic performances and the use of percussive effects on the guitar. He was named as Best Acoustic Guitarist in the May 2008 and 2010 issues of Guitar Player magazine.
---
The current show's music appears on the page. For past shows, click on the date on the calendar on the left side of the page, then click on the program or time-frame you are looking for!
––––––––––––––––––––––––––––––––––––––––––––––––––––––––––––––––––––––––––––––––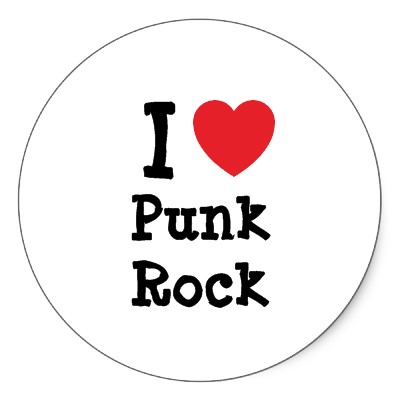 Slamdance your way into Sunday each and every Saturday night at midnight as Mana'o Radio, 91.7 FM Maui brings you The Minority Report. Join hosts  Jeremy Jarvis & Alec Bayer for an adventure down all avenues of punk rock, past & present… Punk, Grind, D-Beat, Crust & Hardcore. Teenage angst in all it's fury… Maui's ONLY punk rock radio broadcast… now on Mana'o Radio, 91.7 FM Maui. The party starts at midnight every Saturday night!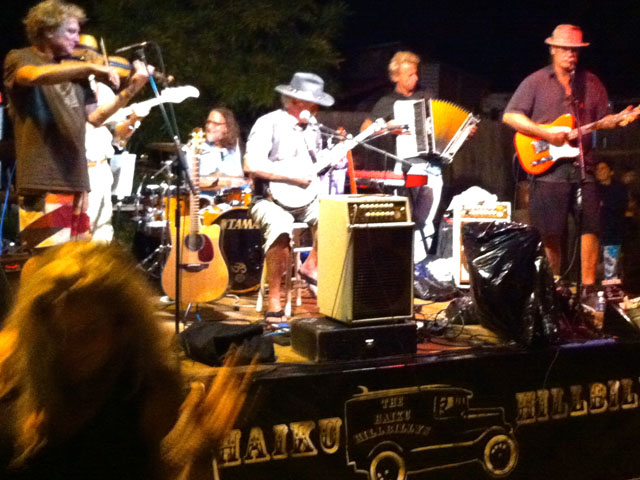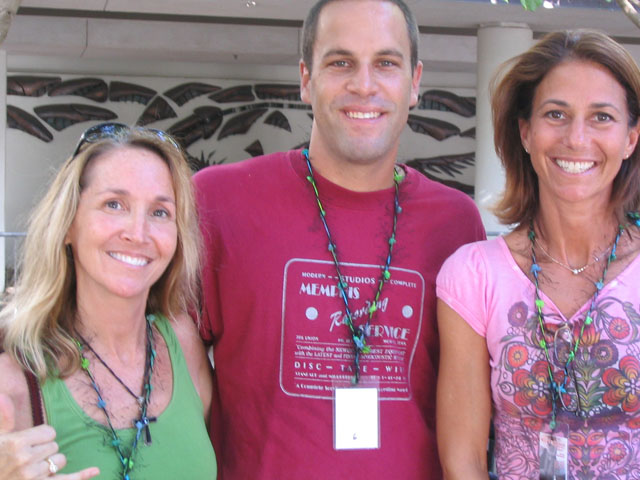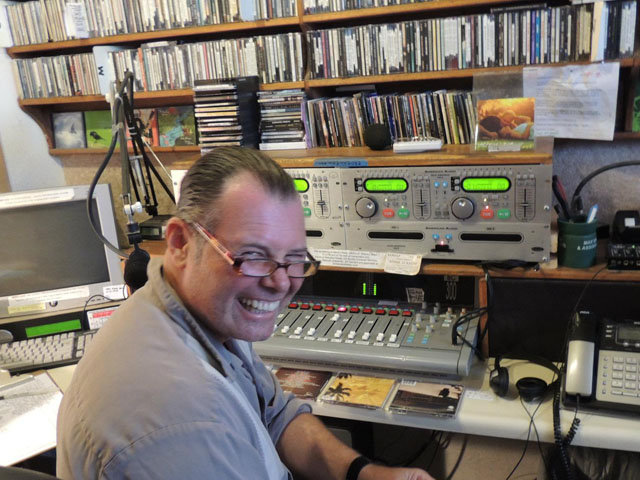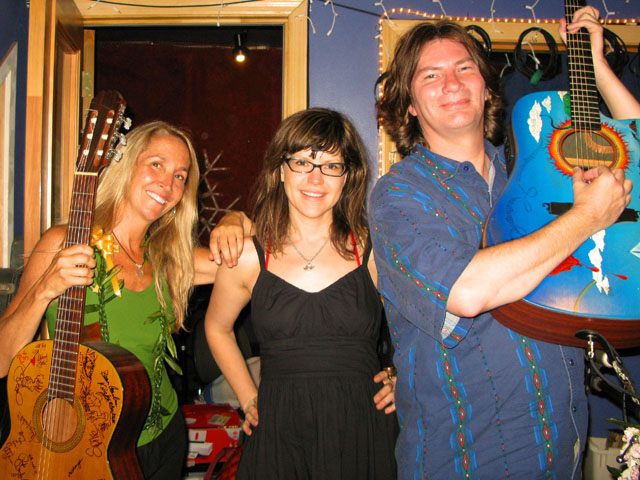 Jazz

88%

Rock 'n Roll

91%

Blues

90%

Hip Hop

85%

World Beat

96%
Do not impose on others what you yourself do not desire. -Turn them on to Mana'o Radio
Confucius
The following Businesses and Individuals generously support Manao Radio as MAJOR SUPPORTERS. Mahalo to our Major Supporters and to all who support Manao Radio.
Acknowledged Donors:
Na Ali'i Massage, Maui Toyota, Rodeo General Store, Picture It Framed, Willie & Annie Nelson, Majic Carson, Mike Elf Construction & Uncle Wally Elf, Maui No Ka Oi Magazine, Casanova, TLC Automotive, Haleakala Bike Company, Maui Arts & Cultural Center, Hawaiian Carpet One & Hawaiian Ceramic Tile, Maui Guidebook.com, Suellen Barton, Darrell Sing, Charlie & Mary Dungans, Glen Hope, Alan Sheps, John Bruce, Tim Jasnau & MauiPianoTuning.com, Barry & Stella Rivers and The Maui Film Festival, Matteo's Osteria, Maui Kombucha, Leslie Shipnuck
Ken & Desiree Hayo, Ha Wahine, Rainbow Acres Cactus & Succulent Nursery, Buck Mickelson & Tradewinds Production Group, Susan Mandl/NY, Roz & Michael McKevitt, Ray Mayron & Barb Bezdicek, Pat & Chris Simmons, Ho'olawa Farms, Polli's Mexican Restaurant, FIM Group, Ginny Kiick, Brent Freemont, Outdoor Living, Maui Nui Farm, Laura Seaton/Texas, Lawrence & Mary Lambert, The Trippelgrow Ohana, Mrs. Jean Palamar, Jimmy Coulter, Viktoria Grover, Helene & Charles Lorber, Edible Hawaiian Islands Magazine, The Murray Family, Leilani Farm Sanctuary, Catering From Soup To Nuts/The Vineyard Food Company
Rodeo General Store, Picture It Framed, Willie & Annie Nelson, Majic Carson, Mike Elf Construction & Uncle Wally Elf, Maui No Ka Oi Magazine, Casanova, TLC Automotive, Haleakala Bike Company, Maui Arts & Cultural Center, Hawaiian Carpet One & Hawaiian Ceramic Tile, Maui Guidebook.com, Suellen Barton, Darrell Sing, Charlie & Mary Dungans, Glen Hope, Alan Sheps, John Bruce, Tim Jasnau & MauiPianoTuning.com, Barry & Stella Rivers and The Maui Film Festival, Maui Kombucha, Leslie Shipnuck Maui No Ka Oi Magazine, Maui Coffee Attic, Maui Jo Coffee Company, The Law Offices of Tilley & Hill, Maui Homeopathy, Whale Song Realty, Maui Tempeh Company, Hui No'eau Visual Arts Center, Sir Wilfred's in Lahaina, ,Tatiana Howard, Kanekoa