We're Back !

Mana'o Hana Hou Radio is back on the Maui Airwaves! While we were away, we increased the power of our broadcast transmissions to 1200 watts. We have also devoted considerable time & effort in upgrading the quality of our live streaming broadcasts over the internet in order to bring you the finest audio quality available in internet radio. The new media player now embedded in our website now works across all platforms including iPads, iPhones & other Apple devices. We've also added a complete programing calendar here on the website. Listen for lots of your favorite regular hosts along with some very talented new faces thrown into the mix, insuring that Mana'o Hana Hou Radio, 91.7 FM Maui continues to bring the most eclectic and commercial free radio experience available anywhere on the FM radio dial.
We've also added an easy online donation button on the site where you can help support the station with your generous tax deductible credit card donation through the security of the Paypal system.
We would like to thank our audience and supporters for your ongoing support. We missed all of you while we were away! Welcome to our new Hana Hou era of radio excellence!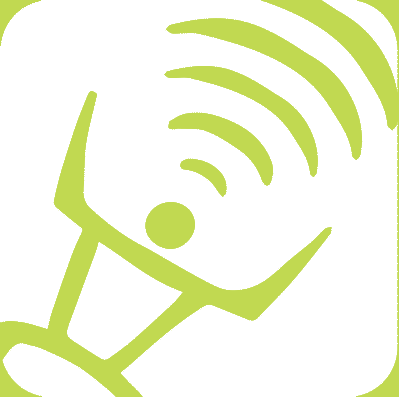 OUR MISSION: To inform, educate, and entertain the Maui community with radio broadcasts of multi-cultural and community-related programming, with special emphasis on the interests and needs of older adults. OUR GOALS:
Spread cultural awareness and understanding through locally produced educational vignettes

Showcase local musicians, singers, songwriters, authors, and various other artists

Provide accurate and timely reports on the news of the day, both local and worldwide

Expose the audience to a broad range of music, including ethnic and other forms not considered commercially viable

Foster public participation in an ongoing forum for opinions on local issues and concerns
Donations are always gratefully accepted! Help keep the Mana'o flowing!
CHECKS:
Please make checks payable to MANA'O HANA HOU RADIO and send to:
Mana'o Hana Hou Radio PO Box 2203, Wailuku, Hawaii 96793
All donations are tax deductible as current laws allow. Mana'o Radio is a 501(c)(3) non-profit corporation. New Tax ID # pending
" We found you in our rental car at 5 am last Thursday morning heading up to catch sunrise on Haleakala.  It really got us going, song after song blowing us away—Red Molly, Leadbelly, Afro-beat, Mingus, Chuck Brown—more women than usual too—Norah Jones?   Many we could only guess at. Within 24 hours of being home, we'd both looked  you up online. And I promise—I've never fallen in love with a radio station before. 
Best wishes to you—best music we've ever heard over genre after genre"
-Louisa Davis, an island visitor from Reston, Virginia

Make a donation in any amount. All are welcome!
Streaming LIVE on the internet 24 / 7
Support Mana'o
You can support commercial free radio right this minute and use your credit card on a secure page to make a donation! . Scroll up, it just takes 1 minute!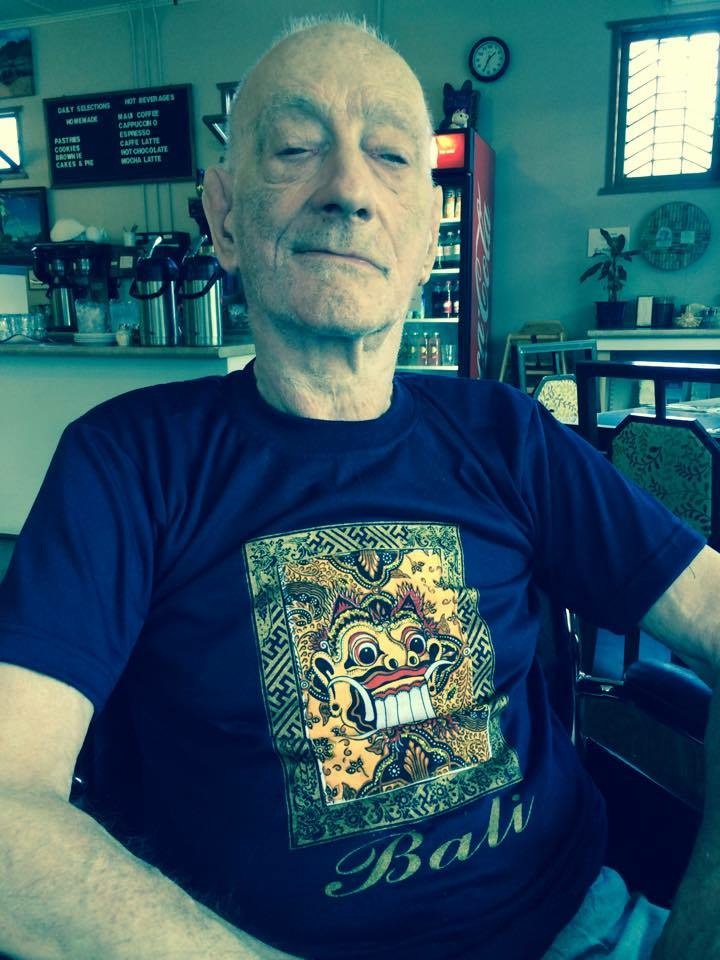 Ebb & Flow Arts Director and noted composer Robert Pollock takes over the controls again this Sunday, November 22, 2015 (the fourth Sunday of a 'five-Sunday' month), 10AM-2PM to bring you another edition of Ebb & Flow Arts Presents: Point of Departure.
Featured during this month's program will be a collection of heretofore unheard audio files from David Lewiston's (of Nonesuch Explorer Series fame) archived recordings of indigenous music from around the world – Bali, northern India, northern Pakistan, northern Africa, and George (Russia).
Later in the program we explore connections between the ancient and the modern – music by Arnold Schoenberg, Charles Wuorinen, Vivian Fine, Roger Sessions, Claude Debussy, Per Norgard, and others. Music from 20th and 21st centuries regains a spiritual connection with ancient and indigenous music. There has always been "world music". But our western music from about 1650 until 1900 – world, classical, and popular – sometimes became formally homogenized, harmonically stultified, and rhythmically commodified. Western music from this era affected all musics. Modern music protests these circumstances. It experiments with new forms, explores far-reaching realms of harmony, and breaks free from four-square rhythms. Modern music returns us to our spiritual, artstic roots – what Kandinsky called "the Spiritual Triangle that moves slowly forward and upward…".
For more information, go to:
http://ebbandflowarts.org
Tune in online from anywhere in the world:
http://manaoradio.com
_____________________________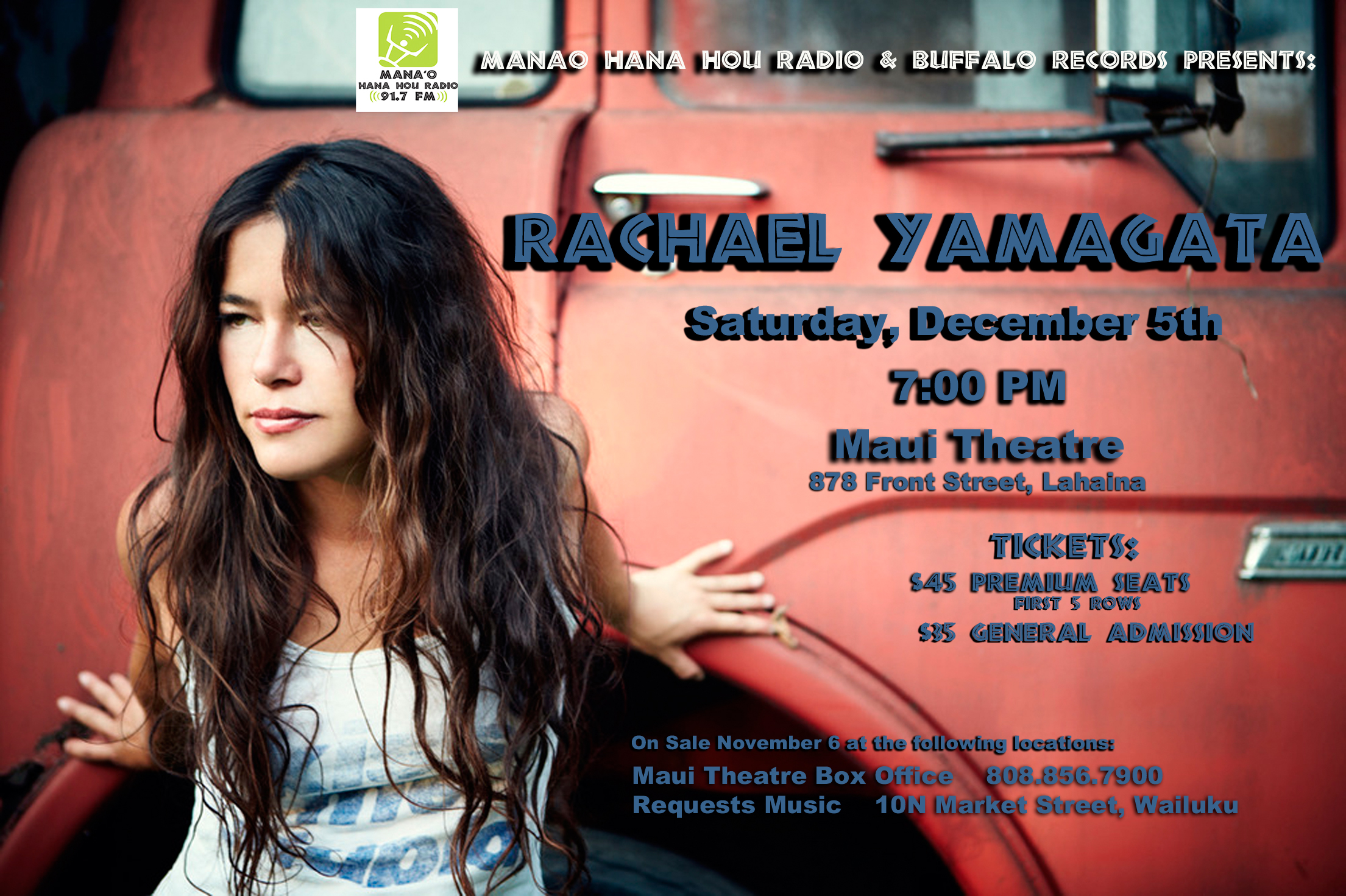 Mana'o Hana Hou Radio & Buffalo Records are pleased to present Rachael Yamagata & her Trio for one-night only at the beautiful Maui Theatre (home of Ulalena & Burnin' Love) in Lahaina on Saturday, December 5th. This will be Rachael's first time ever performing in Hawaii. Tickets go on sale Friday, November 6th and are available by calling the Maui Theatre Box Office at: 808.856.7900 and at Requests Music at 10N. Market Street in Wailuku. Keep watching this space for info on how to purchase tickets online!
"Rachael Yamagata is known for varying her stage lineups and playing with fresh arrangements ever calling her loyal fan base back for new interpretations of her songs. For her Hawaiian dates she will tour as a trio, but don't expect anything traditional. She jumps from piano to guitar while her multi-instrumentalist comrade Michael Chaves (John Mayer/ Adam Cohen) holds down the rhythm, bass, guitar and keyboard samples. Zach Djanikian (Amos Lee) joins on keys and guitar as well making a lush soundscape that is devastatingly intimate one minute and then electric cool the next. All three take on intricate harmonies and the current cover of Fleetwood Mac's 'Landslide' showcases this beautifully. Her set is sure to include crowd favorites like 'Be Be Your Love' and 'Worn me Down' as well as lovelorn ballads like 'Duet' and 'Elephants'. Early next year Yamagata will release her new album 'Tightrope Walker' so expect a few new tracks to be premiered as well. Think Roberta Flack meets Tom Waits with a bit of Rufus Wainwright and Led Zeppelin thrown in."
___________________________________________________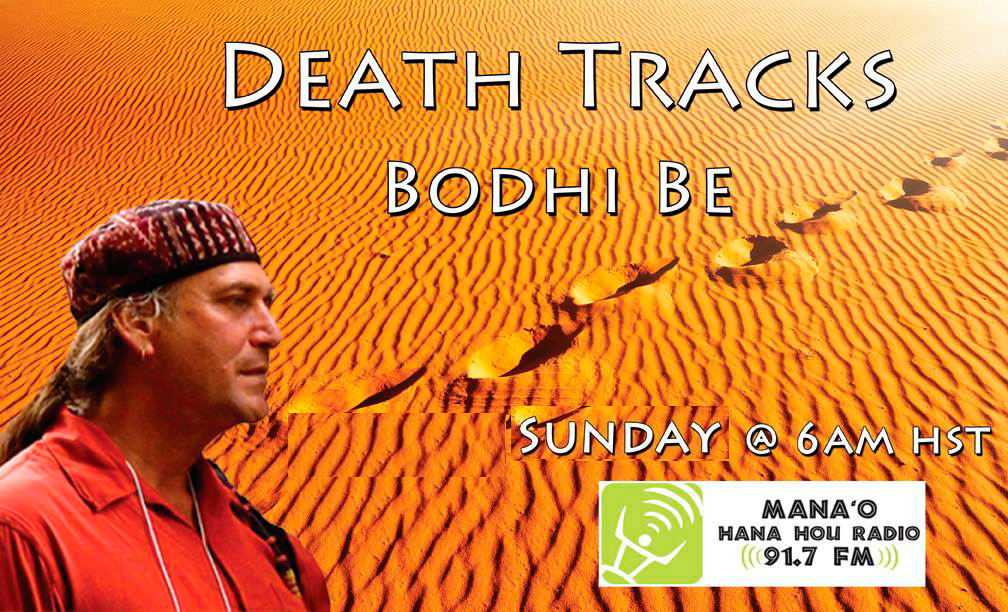 Join in on the essential conversation as Mana'o Hana Hou Radio, 91.7 FM, Maui again presents Death Tracks with Bodhi Be, live on Mana'o Radio 6-7am HST (9am PST) on the First Sunday of each month. This Sunday, Nov. 1, Bodhi's guest will be Sandia Siegal, author of Enjoy The Ride… the story of her Uncle Sammy and the last chapters of his life living with dementia.
If you are an early bird on Maui tune into 91.7FM to hear Bodhi speak on the subject of living fully with an awareness of the ultimate end, preparedness, alternatives to the traditional funeral industry, answer your calls, and play deathly music. If you are on the mainland and would like to listen and be part of the call in experience, follow the link below to listen online. PLEASE CALL IN at 808.242.KMNO (5666) with your questions and comments.
http://manaoradio.com
___________________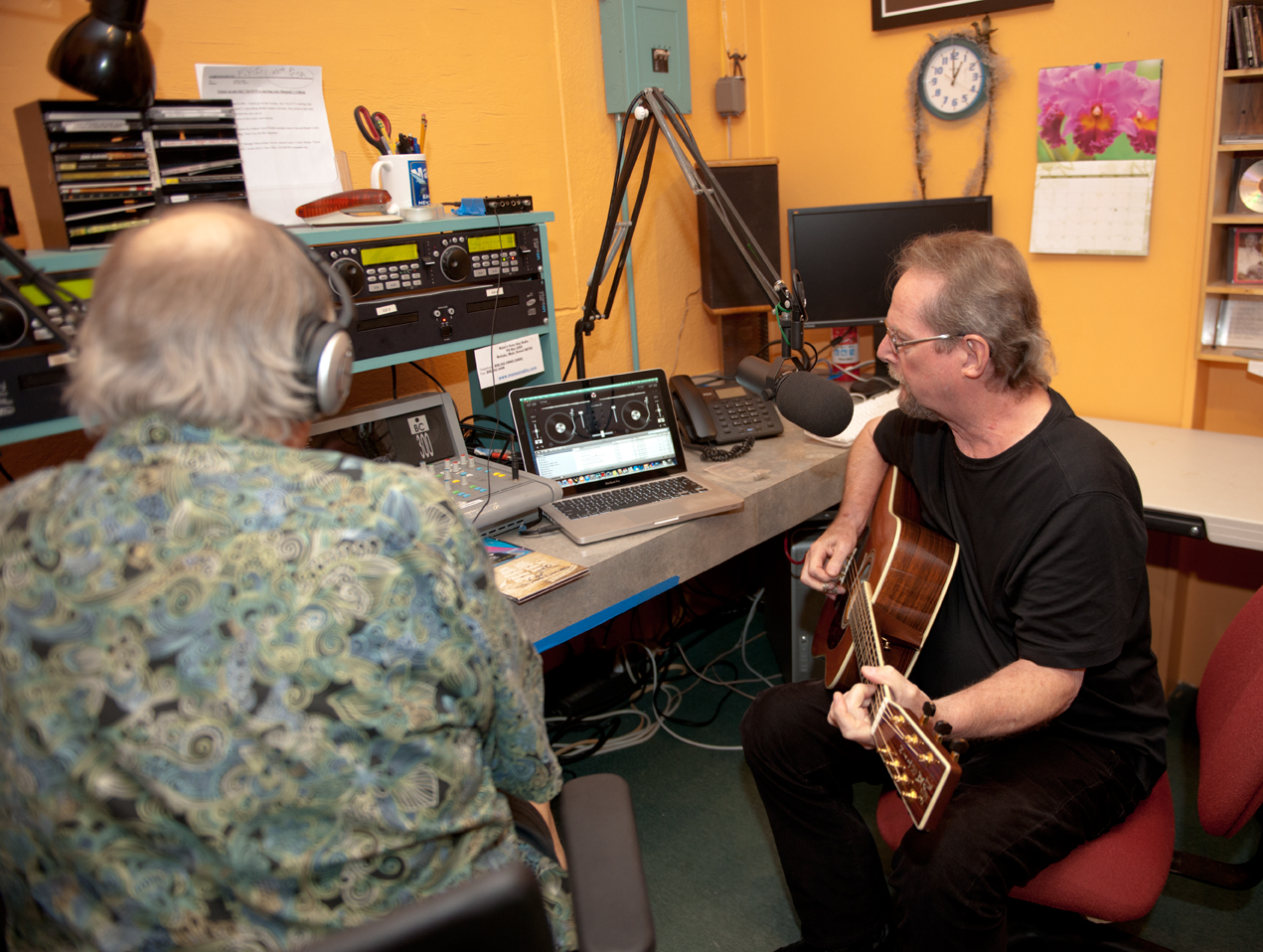 Mana'o Hana Hou Radio, 91.7 FM, Maui, Hawaii
The legendary Roger McGuinn dropped by Mana'o Hana Hou Radio studios today to have a chat with Bill Best and offer our listeners an impromptu performance and preview to his upcoming shows at Wailuku's Iao Theater tomorrow, Tuesday August 25 and Wednesday August 26. This promises to be an amazing two evenings of performance by one of the legends of rock & roll. There are still a few tickets left for both shows, available at the Maui Onstage Box Office: 808.242.6969 or online at:
http://www.mauionstage.com
Mahalo Roger!
____________________________________
_____________________________________________________
Do you want to find out the name of that song that just played?  Maybe you heard something a few days ago and you'd like to know the name of the artist, the song or the album it came from?
You can now find all of our playlists archived an online by going here:
The current show's music appears on the page. For past shows, click on the date on the calendar on the left side of the page, then click on the program or time-frame you are looking for!
––––––––––––––––––––––––––––––––––––––––––––––––––––––––––––––––––––––––––––––––––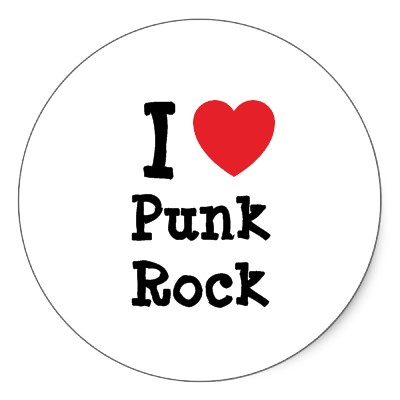 Slamdance your way into Sunday each and every Saturday night at midnight as Mana'o Hana Hou Radio, 91.7 FM Maui brings you The Minority Report. Join hosts  Jeremy Jarvis & Alec Bayer for an adventure down all avenues of punk rock, past & present… Punk, Grind, D-Beat, Crust & Hardcore. Teenage angst in all it's fury… Maui's ONLY punk rock radio broadcast… now on Mana'o Hana Hou Radio, 91.7 FM Maui. The party starts at midnight every Saturday night!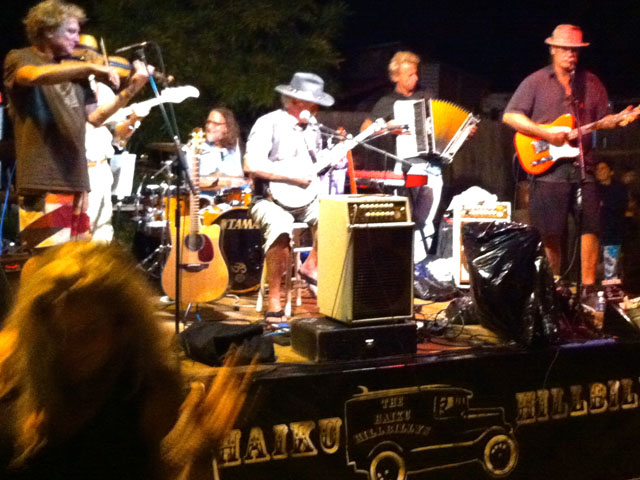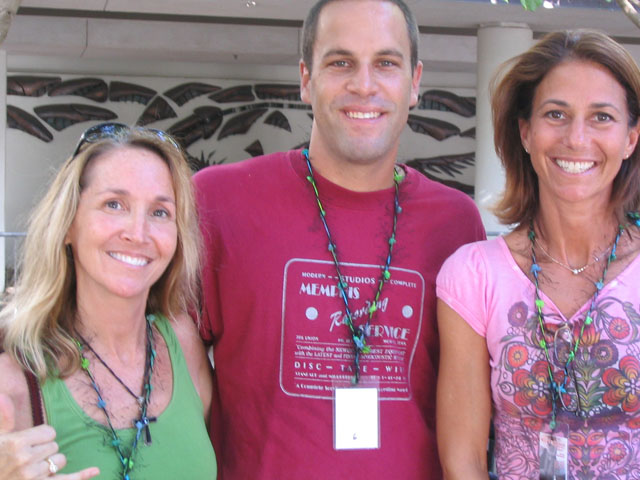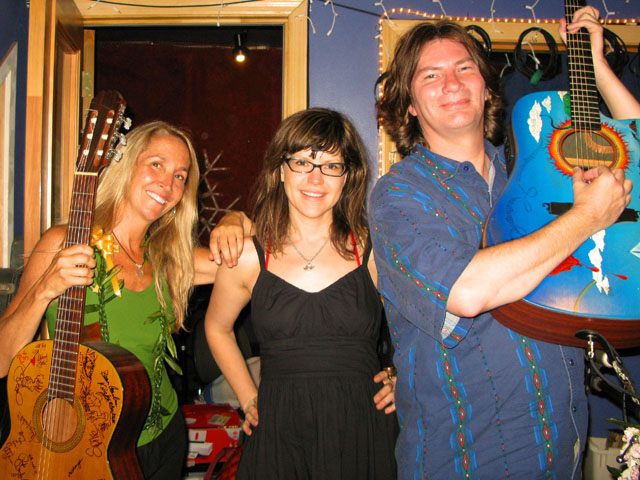 Jazz

88%

Rock 'n Roll

91%

Blues

90%

Hip Hop

85%

World Beat

96%
Do not impose on others what you yourself do not desire. -Turn them on to Mana'o Hana Hou Radio Confucius
The following Businesses and Individuals generously support Manao Radio as MAJOR SUPPORTERS. Mahalo to our Major Supporters and to all who support Manao Radio.
Acknowledged Donors:
Maui Film Festival, Valley Isle Marine Center, Benjamin Hall, Haiku Healing Arts Center, Carol Pappas/ NJ, Bridge Medicine, Whole Foods Market, Wocester Glassworks, Maui Coffee Roasters, Studio 22K, The Pet Shop, Dolphin Drywall, Ebb & Flow Arts, Maui Oma Coffee Roasting, Yellowbird Graphic Design/Tamara Lester, Dogtowne Design/Scott Johnson, Cynthia Conrad & Jerry Labb, Precision Auto Body, Sun King Hawaii, Ebb & Flow Arts, Awakening in Paradise, Lazar Bear Productions, Sherri Reeve Design and Gallery
Ken & Desiree Hayo, Ha Wahine, Rainbow Acres Cactus & Succulent Nursery, Buck Mickelson & Tradewinds Production Group, Susan Mandl/NY, Roz & Michael McKevitt, Ray Mayron & Barb Bezdicek, Pat & Chris Simmons, Ho'olawa Farms, Polli's Mexican Restaurant, FIM Group, Ginny Kiick, Brent Freemont, Outdoor Living, Maui Nui Farm, Laura Seaton/Texas, Lawrence & Mary Lambert, The Trippelgrow Ohana, Mrs. Jean Palamar, Jimmy Coulter, Viktoria Grover, Helene & Charles Lorber, Edible Hawaiian Islands Magazine, The Murray Family, Leilani Farm Sanctuary, Catering From Soup To Nuts/The Vineyard Food Company
Rodeo General Store, Picture It Framed, The Monkeypod Kitchen, Willie & Annie Nelson, Majic Carson, Mike Elf Construction & Uncle Wally Elf, Maui No Ka Oi Magazine, Casanova, TLC Automotive, Haleakala Bike Company, Maui Arts & Cultural Center, Oceana Jewelry, Hawaiian Carpet One & Hawaiian Ceramic Tile, Maui Guidebook.com, Suellen Barton, Darrell Sing, Charlie & Mary Dungans, Glen Hope, Alan Sheps, John Bruce, Tim Jasnau & MauiPianoTuning.com, Barry & Stella Rivers and The Maui Film Festival, Matteo's Osteria, Maui Kombucha, Leslie Shipnuck