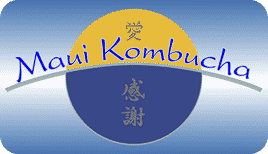 Maui's original and largest kombucha brewery, Maui Kombucha's Café and Tasting Room is located in Haiku town at the Haiku Cannery.  They are open to serve you kombucha and tasty, organic, non-GMO vegan meals 7 days a week, from 8 a.m. to 6 p.m.
What is Kombucha you may ask??  Kombucha is a Symbiotic Culture Of Beneficial Bacteria and Yeast, or a SCOBBY. When the culture is placed in an infusion of tea and sugar and allowed to ferment, the result is a refreshing and rejuvenating tonic beverage rich in probiotics, amino acids, enzymes, and B vitamins.  Its history dates back over 2,000 years, originating in China, then spreading to India, Japan and Russia.  The Samurai even carried it with them in their hip flasks to help keep up their energy and strength, especially in battle.  It's been known by many names such as The Tea of Immortality and The Elixir of Life. Maui Kombucha's nickname for it is 'Booch' or 'Boochy'.
Maui Kombucha strives to provide their customers with the highest in nourishment and a welcome, healthy place of community. They provide the best in local ingredients and a thriving network of creative local economy.  You'll also love their delicious raw vegan food, from pizzas to vegan cheese cake and other yummy arrays of dishes sure to become some of your favorites.
Visit them and see what the tasty side of Maui health food is like!
At the Haiku Marketplace
810 Haiku Rd # 202
(Behind Colleens Restaurant)
808 575 5233