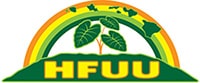 Hawaii Farmers Union United-Haleakala Chapter
The HFUU Haleakalā chapter is dedicated to supporting local, community agriculture, and food production. When you join HFUU you are becoming a member of National Farmers Union which began in 1902 as an advocate for the family farmer, predating trade unions (which HFUU is not). We are advocates of agricultural education, legislation, & cooperation. Maui Haleakalā is a chapter of the Hawaii Farmers Union United which is a chapter of NFU.
HFUU Mission
Hawai'i Farmers Union United is affiliated with the National Farmers Union and is recognized and respected as a voice for farmers, ranchers, and fishermen throughout the Hawai'ian Islands.
Hawai'i Farmers Union United empowers its members to earn a prosperous living through regenerative stewardship of our lands, waters and communities.
HFUU Vision
We assert that a multitude of smallholder diversified family farms that implement regenerative techniques in growing and raising our food will create a resilient, vital and productive agricultural system to better feed Hawai'i's people.