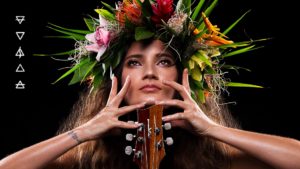 Mana'o Radio Presents:
☀ TAIMANE & Her QUARTET ☀ ELEMENTAL TOUR
SATURDAY MARCH 30 ☀ 7:30pm
Two Sets
MAUI ARTS & CULTURAL CENTER
McCoy Studio Theater
DISCOUNTED TICKETS
★ Purchase tickets now thru Monday, 2/25 and receive a $5 discount off each ticket!
★ For tickets call 242-SHOW (7469) or visit https://mauiarts.org/taimane.
★ Buy now for discounted pricing *and* best seats!!
CRITICAL PRAISE
"A phenomenally talented ukulele virtuoso, Taimane has developed a flamenco-inspired strumming technique that is breathtaking. In concert, her hands often blur in motion as she passionately strums while dancing around the stage. It's an intoxicating experience both visually and aurally that has blown away audiences both nationally and abroad."-Jon Woodhouse, The Maui News
HAVE A LOOK & LISTEN
☀ Jupiter: https://app.box.com/v/tgjupiter75
☀ The Sun: https://youtu.be/c6NJY7hmWoY?t=123
☀ YouTube Playlist: http://bit.ly/tgsxsw19
HAWAII RISING STAR
★ Born, raised and resident of Oahu, Taimane is Hapa Samoan and has performed professionally since the age of 13
★ Over 9 million video views and over 110,000 social media followers
★ 2018 Los Angeles Staples Center performance in front of 20,000 + performances to 10,000+ alongside Michael Franti at Red Rocks Amphitheatre and The Gorge Amphitheatre.
★ Sold out headline shows in New York, Washington D.C., Denver, San Diego, San Jose, Santa Cruz, Oceanside and more
★ The sole Hawaii artist officially showcasing at SXSW 2019 + upcoming 2019 tours across Europe and North America
MACC HEADLINE DEBUT
Now is your chance to catch local star, Taimane, in a warm, cozy venue in fresh and full blossom before bigger stages beckon. Taimane brings her quartet (ukulele / vocals, classical guitar / vocals, percussion and cello) to Maui for her debut headline show at the MACC – an intimate, one-night-only concert Saturday, March 30 at McCoy Studio Theater.
2017 and 2018 were breakout years for Taimane, and she's on track to experience her greatest rise yet in 2019. Taimane kicked off this year presenting concerts in New York at the largest performing arts conference in the world and walked away with multiple offers from major mainland theaters (1,000+ seat venues).
At the beginning of March, Taimane and her band descend into Austin, TX where she will be showcasing at SXSW Music Festival, one of the world's largest and most influential music events with masses of concertgoers plus thousands of music media and industry players.
After over a decade of passionately pursuing her art and investing in herself year after year, Taimane is poised to share her music and vision of Hawaii with the world. Come experience her beauty, grace and passion and see why Taimane is quickly becoming a global cultural beacon.
– Instagram: https://www.instagram.com/taimanegardner/
– Facebook: https://www.facebook.com/taimanegardner/
"Taimane rocks the stage with a sensual vibrancy and a white hot talent that captivates and beguiles!" – Pierce Brosnan (aka 007)
"Absolutely fantastic show!" – Jerry VanLeeuwen, Executive Director, California Center for the Arts Escondido
"It was an incredible performance!" – Todd Stein, President & CEO, Mid-America Arts Alliance
"What an amazing artist!" – Kristine Bretall, Director of Performing Arts, Sun Valley Center
"Every so often we discover an artist as he or she is about to emerge into a much bigger arena. These experiences have included Chris Botti, Trombone Shorty, Kamasi Washington and Lake Street Dive. Now, we have a new discovery – Taimane. She's destined for a big, bright future, and I encourage you to catch her show as soon as you can." – Bruce Labadie, Artistic and Festival Director of San Jose Jazz
– A portion of each ticket sold benefits Mana'o Radio.
Produced by T-Rx Entertainment, LLC