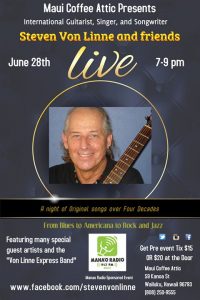 Join Mana'o Radio at the Maui Coffee Attic on Friday, June 28 at 7:00pm for a night of Steven Linne's best original music collected from over 4 decades and performed with many special guests from the Maui Music community. Mini Choir, Soloists and all backed by his "Von Linne Express Band"!
This will also be Steven's 70th B-Day Party!
* The evening will be video and audio recorded. Come Early and buy your tickets ahead to save $5!
* Manao Radio will receive a portion of each ticket sold.
To purchase tickets and make reservations visit
Maui Coffee Attic
or call them at 808-250-9555.