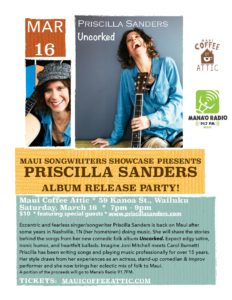 Mana'o Radio and Maui Songwriter Showcase presents Nashville singer/songwriter/recording artist PRISCILLA SANDERS
Saturday, March 16, 2019 – 7:00pm (Doors open @ 6:00pm)
MAUI COFFEE ATTIC
59 Kanoa St. Wailuku HI (808) 250-9555
Advance Tickets – $10 – www.mauicoffeeattic.com/tickets
Eccentric and fearless singer/songwriter, Priscilla Sanders has returned to Maui from her hometown of Nashville, Tennessee with a new folk/comedy album, "Uncorked."
With a songwriting/professional performing career that spans 15+ years, Priscilla's has captivated audiences with her rule-bending music and lyrics that range from the deeply personal to absurdly funny! Sanders' background in stand-up comedy, improv, and acting helped her pen three one-woman shows that ran performances in New York, Nashville, and Los Angeles.
Priscilla's new album "Uncorked" delivers edgy satire, ironic humor and heartfelt ballads. Imagine Joni Mitchell meets Carol Burnett.
Priscilla's songs dive deep, letting you know that you're not the only one going through the trials of life and that we can laugh at ourselves along the way.
Don't miss this special one-night-only performance in Maui's finest music showcase/listening room – the Maui Coffee Attic!