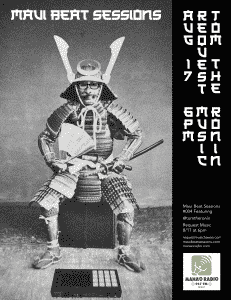 Make your plans on Saturday, August 17th to get down with Mana'o Radio at Request Music when Maui Beats Sessions #4 kicks off with local drummer, DJ/turntablist, producer of minimal/techno/tech house/boom bap, and organizer of Maui Beat Sessions–Tom The Ronin!
Tom will be sharing some of his secret production techniques and wisdom gained from many years of performing and working in the music industry.
Aspiring and experienced beat makers and producers alike are welcome to attend.
The event is free to attend, and donations are welcome to help support future events.
6:00pm – Workshop/Live Beat Making/Performances
7:00 to close – Open Beats (Producer Open Mic) – sign up at: www.mauibeatsessions.com
Presented by Request Music, Mana'o Radio and Maui Beat Sessions.