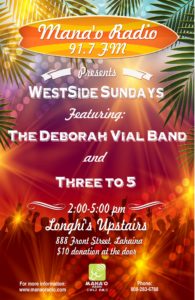 Did you know that you can now listen to Maui's leading non-commercial, 100% listener-supported, 100% volunteer-staffed Mana'o Radio loud and clear on the Westside? It's true! Mana'o Radio's broadcast at 91.7 on the FM dial is now available loud and clear to residents of Lahaina and Ka'anapali and surrounding neighborhoods!
To welcome West Maui to the Mana'o Radio Airwaves, we are introducing a new quarterly music series at Longhi's in Lahaina on Sunday, January 27th from 2:00-5:00pm for a beautiful afternoon of great live music and great friends.
On Sunday, January 27th, we are proud to bring to the stage two premiere Maui bands making a special Westside appearance, Deborah Vial Band: one of Maui's premiere bands.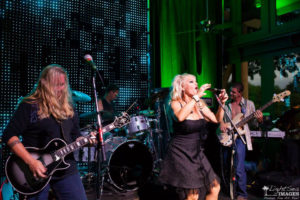 Also performing, Three to 5: a new all-instrumental band performing conscious funk—music with Mana!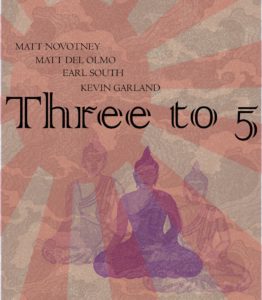 Only $10 at the door goes entirely to benefit Mana'o Radio. We want to welcome our new Westside listeners to Maui's most eclectic and varied radio programming!
Join us on January 27th for an afternoon of great music. Come eat, drink and be merry with us!
For more information call 808-283-6788.
See ya there!
Michael Elam
Director
Mana'o Radio