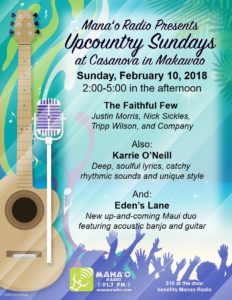 Aloha Music Lovers,
SPECIAL NOTE: Upcountry Sundays is being held on the second Sunday of February (2/10) due to the first Sunday being Super Bowl Sunday.
Mana'o Radio invites you to come join us on Sunday, February 10th for Upcountry Sundays, our monthly benefit showcase. Featuring the best in live music, from both Maui artists and visiting musicians, this long-running show happens on the first Sunday of every month at Casanova, Makawao from 2 to 5 PM. It's a beautiful afternoon of great live music and great friends.
On Sunday, February 10th, we are proud to bring to the stage The Faithful Few: "Justin Morris, Nick Sickles, Tripp Wilson, and Company"!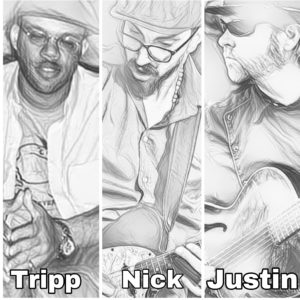 Also on the bill will be Karrie O'Neill with her deep soulful lyrics, catchy rhythmic sounds and unique style.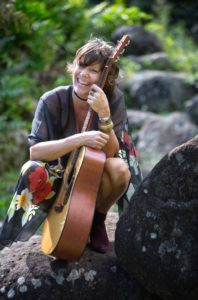 Opening this show will be Eden's Lane a new, up-and-coming Maui duo featuring acoustic banjo and guitar.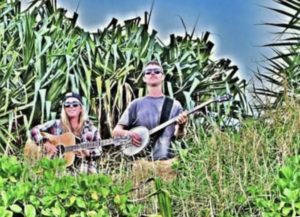 All in all, a great way to spend a Sunday afternoon with friends!
Only $10 at the door goes entirely to benefit Mana'o Radio. We would like to welcome listeners old and new to Maui's most eclectic and varied radio programming!
If you can't make it to Casanova, you can still catch the entire show LIVE on our easy-to-use website at http://www.manaoradio.com. You can tune in to the show from anywhere in the world, starting at 2:00 PM Hawaii time.
Don't forget that while listening you can also make a donation to listener-supported Mana'o Radio right on our website if you like. Otherwise, just tune in February 10th for an afternoon of great music. Come eat, drink and be merry with us!
See ya there!
Justin Morris and the
Mana'o Radio Volunteers