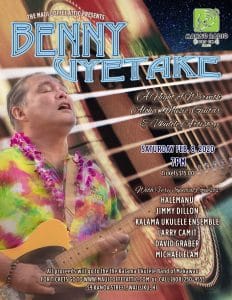 Join Mana'o Radio for a special fundraiser benefiting Kalama Intermediate School ukulele band.
A night of warmth, aloha, and ukulele and guitar with special guests Halemanu, Jimmy Dillon, the Kalama Ukulele Ensemble, Brooks Maguire, Glen Kakugawa, Larry Camit, David Graber, and Michael Elam.
Limited seating – RSVP – tickets available at www.mauicoffeeattic.com or by phone at 808-250-9555.
All proceeds benefit the Kalama Ukulele Band of Makawao.