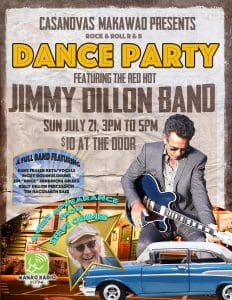 Make your plans to join Mana'o Radio for a great show by Jimmy Dillon, performing with his red-hot big band at Casanova this Sunday, July 21 from 3pm to 5pm.
It's a DANCE PARTY with special guest Steve Grimes!
Rock out to Jimmy's stellar band featuring David Fraser on Keyboards, Ricky Bodinus on Drums, Jim "ROCK" Hendricks on Sax, Kelly Dillon on Percussion and Tim Hackbarth on Bass. A smokin' line up for some tasty rock and roll and R&B! Good times and great dancing!
A portion of each ticket sold benefits Mana'o Radio!