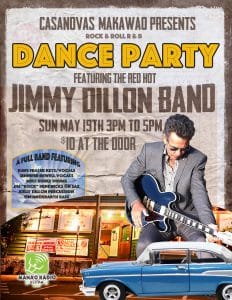 Aloha Mana'o Radio Listeners…
Jimmy Dillon will be performing with his Red Hot big band up at Casanova's on Sunday, MAY 19th from 3pm to 5pm.
It's a DANCE PARTY featuring David Fraser on Keyboards, Jennifer Newell on Vocals, Mike Burke on Drums, Jim "ROCK" Hendricks on Sax, Kelly Dillon on Percussions and Tim Hackbarth on Bass….A smokin' line up for some tasty rock and roll and R&B and it benefits your favorite station, Mana'o Radio 91.7FM.
Good times and great dancing! Only $10 at the door!