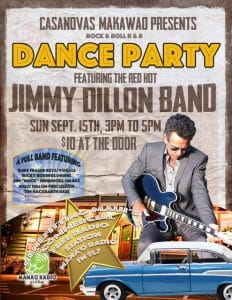 Join Mana'o Radio and lace up your dancing shoes for a groovalicious Sunday with Jimmy Dillon performing with his red-hot big band at Casanova on Sunday, September 15th from 3pm to 5pm.
It's a DANCE PARTY!
Expect the unexpected as JD delivers an exciting mix of original material with some eclectic arrangements of classic dance tunes. Put on your dancing shoes, bring 10 BFFs and rock out with Jimmy Dillon and his stellar band! A smokin' line up for some tasty rock and roll and R&B! Good times and great dancing!
A portion of each ticket sold benefits Mana'o Radio!