SOLD OUT: WOLFCHILD headlines SouthSide Sundays Live Music Showcase, Sunday, July 4, 2:00-5:00pm
July 4 @ 2:00 pm - 5:00 pm
This event is now sold out. Check back with us soon for info about next month's SouthSide Sundays show happening Sunday, August 1!
Join our email list to receive advance information about our upcoming events!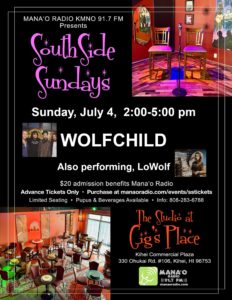 Mana'o Radio is excited to continue our new monthly music showcase series, Southside Sundays, as we continue our mission of supporting live music on Maui and the musicians who make it thrive.
Featuring the best in live acoustic music from Maui musicians, this show happens on the first Sunday of every month at the exciting, new venue, The Studio at Gig's Place in Kihei, from 2:00 to 5:00 PM.
It's a beautiful afternoon of great live music and great friends. 
On Sunday, July 4th, we are proud to bring to the stage WOLFCHILD!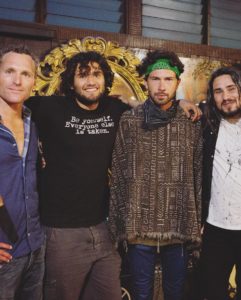 Seattle's WOLFCHILD is a collective of musicians creating a sound that blends the worlds of lyrical dreamy-folk music with the dramatic cinematic swells of Pink Floyd-esque alt-rock. Frontman Gabriel Wolfchild spent his early years cutting his teeth as an acoustic singer-songwriter and became known for his tenderly poetic and at times tragic style that allows listeners to open up, dive deep, and explure the full extent of their own emotional passageways. His songwriting is met with ethereal 4-piece vocal harmonies, gravity-defying guitar, warm bass tones and potent percussion to create an immersive sound that blurs the line between rock show and performance art.
Opening the show will be LoWolf.
The Studio at Gig's Place provides a creative and educational gathering place for the Maui Arts & Music community. Every seat is a good one in this intimate live music setting!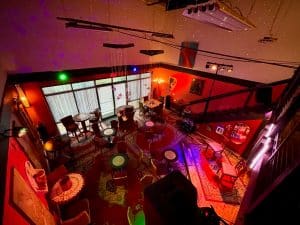 Due to limited seating, admission is available by advance purchase only right here at ManaoRadio.com. The $20 admission is a donation which goes entirely to benefit nonprofit, listener-supported, Mana'o Radio.
Doors open at 1:00pm. Performance begins at 2:00pm.
Come early to eat, drink and be merry with us!
Light pupus and beverages will be available for purchase from 1:00-2:00pm as well as during the intermission at 3:15pm.
Face masks covering nose and mouth required while not eating or drinking.
NOTE: All 2-person tables have been sold. A few 4-person tables for $80.00 are still available.
Mahalo to Stephen Holding of Shooting Stars Photography for capturing the magic moments from the SouthSide Sundays shows.