Kalani Pe'a's "Kau Ka Pe'a" Album Release Show at ProArts Playhouse
October 17 @ 3:00 pm - 4:30 pm
— Mana'o Radio & ProArts Playhouse Present —
★★ KALANI PE'A ALBUM RELEASE SHOW ★★
★ 2-time Grammy Award-winner ★
Saturday, October 16th at 7:30pm & Sunday, October 17th at 3:00pm
Album Signing to follow the show
Tickets: $50 at www.ProArtsMaui.com (seats still available for Sunday show only!)
Per County guidance, proof of vaccination or negative COVID test taken within 48 hours of attendance will be required.
ProArts Playhouse – Kihei, Maui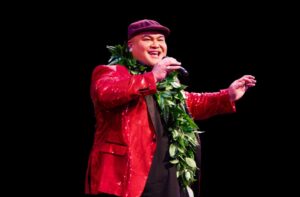 Kalani Pe'a is a singer of power, sensitivity, and charisma, one of the most exceptional talents in a new generation of Hawaiian musicians.
He has won 2 Grammy Awards for Best Regional Roots album, one for each of his two CDs releases to date, the only Hawaiian artist to win in this category. He made Hawaiian music history when his first CD also won him a Na Hoku Award (Hawai'i's "Grammy"), the only album ever to win both a Grammy and a Hoku.
In 2019, he made his debut appearance at the prestigious Merrie Monarch hula competition, for the hula group that went on to win the top honor. The year 2020 saw his sold-out New York debut, the first Hawaiian artist to be presented by Lincoln Center's American Songbook.
Self-described as "Hawaiian contemporary soul", Kalani's dynamic and charming stage presence, vocal brilliance, and range of songs from Hawaiian to R&B has brought him to the forefront of Hawaiian music for both traditionalists and a new generation.
Run time: 70-90 minutes with Album Signing (by Seating Module) to follow the show
A portion of the proceeds will be donated to Mana'o Radio!