"Island Style at ProArts Maui" presented by Mana'o Radio
June 1 @ 7:30 pm - 9:00 pm
Mana'o Radio Presents GRAMMY® and Nā Hōkū Hanohano award winner JOHN CRUZ
"Island Style at ProArts Maui"
W*E*D*N*E*S*D*A*Y*S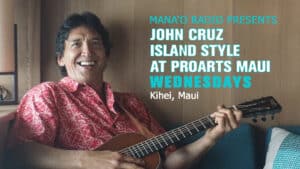 Show Details
Catch Grammy-Award-winning Hawaiian legend John Cruz at home in his element – performing live in a premier listening room where you see, hear and feel every note.
"Performing for an audience has always been a core part of my music and life, and it doesn't get any better than ProArts Maui. Located right in my 'front yard' and feels like playing in my living room – 'Island Style,' connecting with each and every person." – John Cruz
★ WHAT THE PEOPLE ARE SAYING ★
High praise from those who witnessed John Cruz perform at ProArts Maui in August of this year.
"John is amazing, and the venue is so good. We came to see John at ProArts Maui two weeks in a row!"
"It was awesome. Getting to see a Grammy award winning artist in a small venue is a lifetime memory we will always cherish! We were only on Maui for a week but hope to be back soon and see another show at ProArts Maui."
"John Cruz is irrefutably Maui's best performer."
"Venue is beautiful, clean, and protocols made me feel safe! John is always amazing!!"
Produced by Lilikoi Touring, LLC, ProArts Maui and Iiwi Management, LLC
: Kim Taylor Reece