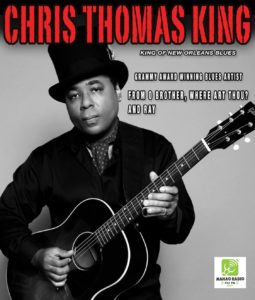 Mana'o Radio and Blues Bear Hawaii are proud to present CHRIS THOMAS KING, master practitioner of Traditional Delta Blues and Contemporary Blues touring behind his new release "Hotel Voodoo". Chris will perform at the McCoy Studio Theater at the Maui Arts & Cultural Center on June 6, 2019 at 7:30pm.
Chris was chosen by the Coen brothers to play the role of itinerant bluesman Tommy Johnson alongside George Clooney in the movie "O Brother, Where Art Thou?" (2000).
"Hotel Voodoo" is his first new studio album in five years proving Chris is at the peak of his powers as a blues rock guitar tour de force on par with legendary greats Jimi Hendrix, Stevie Ray Vaughn, Eric Clapton and Buddy Guy.
A portion of each ticket sold will be donated to Mana'o Radio!
For reservations visit www.bluesbearhawaii.com or www.mauiarts.org or call 808-242-SHOW.