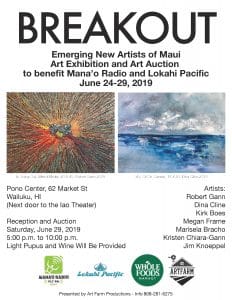 Art Exhibit and Silent Art Auction
to benefit Mana'o Radio, Lokahi Pacific
Exhibiting Artists: Dina Cline, Kristen Chiara-Gann, Marisela Bracho, Megan Frame, Kirk Boes, Jim Knoeppel, Robert Gann
Exhibit Runs Monday June 24 to Friday 28, 2019
10:00 a.m. to 5:00 p.m.
Reception and Auction Saturday June 29, 2019
Doors Open at 5:00 p.m. Reception and Silent Auction from 6:30 p.m. to 10:00 p.m.
Pono Building, 62 Market St. Wailuku
(next door to the Iao Theater)
presented by: Art Farm Productions
Info: 808-281-6275