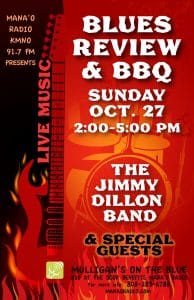 Oct-9: This just in! We are excited to welcome Grammy and Na Hoku Hanohano award winner John Cruz as special guest at the Mana'o Radio Blues Review & BBQ!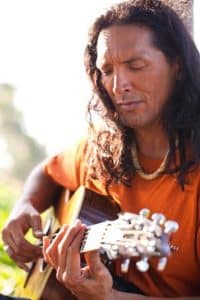 Mana'o Radio continues our celebration of being voted Maui's number one radio station by doing it with the Blues! Mana'o Radio KMNO 91.7FM is excited to invite you to our BLUES REVIEW & BBQ on the afternoon of Sunday October 27th at Mulligans on the Blue with The Jimmy Dillon Band & Special Guests including: John Cruz, Steve Grimes, Benny Uyetake, Dayan Kai, Ronald Metoyer, Karrie O'Neill, Joie Yasha, Sweet Mama Dee, Stevan Holt and Michael Elam.
San Francisco Bay area guitarist Jimmy Dillon has backed up the likes of Bruce Springsteen, Sting and John Lee Hooker and appeared on stage with B.B. King, Carlos Santana, and Bonnie Raitt, among many others, so we're sure this will be an afternoon to remember! Muligan's will fire up the grills with a special BBQ menu.
The party kicks off at Mulligans on the Blue in Wailea at 2:00pm, and cover is only $20 at the door – with proceeds benefiting Maui's #1 listener-powered radio station, Mana'o Radio.
Advance purchase tickets are now available at EventBrite.com!
Come party with us on Sunday October 27th at the MANA'O RADIO BLUES REVIEW & BBQ!