Mana'o Radio Autumn Soiree
Posted on August 10, 2018
*SHHH THIS IS A SECRET EVENT! PLEASE DO NOT SHARE THE CONTENTS OF THIS WEBPAGE*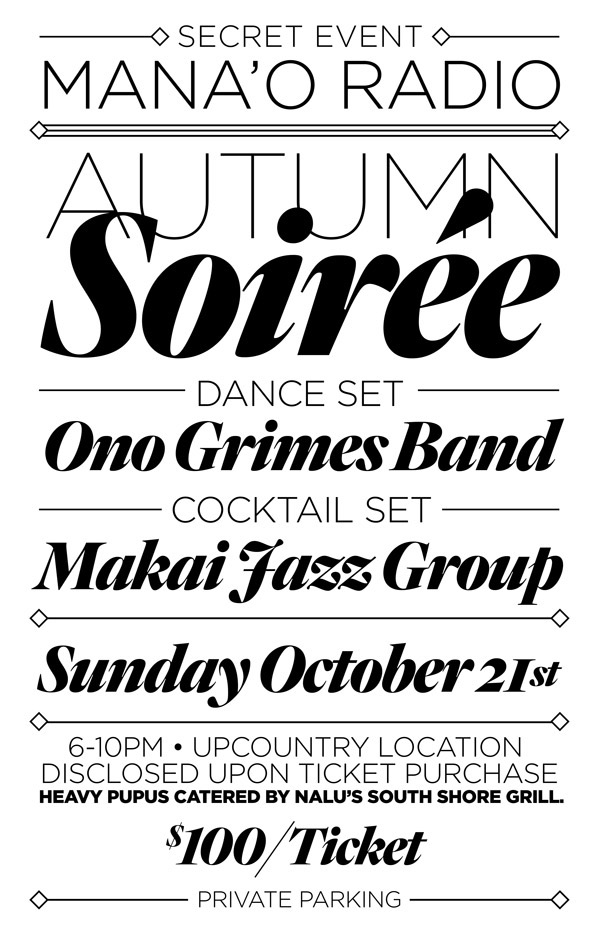 As a valued member of our ohana you're exclusively invited to the Mana'o Radio Autumn Soirée – our first ever secret show & fundraiser party! Come experience an unforgettable night of live music in a one-of-a-kind private location while supporting your favorite listener-powered radio station. Mix and mingle under the stars with the diverse community of DJ's, musicians, underwriters and music lovers like yourself who've helped keep Mana'o Radio thriving for 16 years and counting. Since this special event is being held at a private venue with limited capacity, we expect this to sell out quickly so reserve your tickets today!
When: Sunday, October 21st, 6:00-10:00pm
Featured Artists:
Ono Grimes Band
Makai Jazz Group
Plus Special Guests
The members of Ono Grimes hail from Maui, but their musical lineage runs deep and widespread. Their name is a spin on the Hawaiian phrase "ono grinds", meaning "good food". Fronted by singer/songwriter Steve Grimes, Ono Grimes Band serves up hors d'oeuvres of sultry blues, and a main dish of jazz infused blues. From the appetizer to dessert, the bill of fare is stocked with many originals and lots of danceable tunes.
Makai Jazz Group is a 5 piece jazz outfit, featuring sax, piano, bass, drums and vocals with rotating personnel. While you're settling in with a drink and mouthwatering pupus they'll warm up the evening with varied jazz styles, standards, swing, funky things, latin styles and ballads.
Where: undisclosed Upcountry location featuring an outdoor covered bar, covered dance floor, restaurant-style kitchen, sculptures, oddities, artwork, fantastic lighting and the coolest private stage on Maui. *Specific location info and event details will be released after tickets are purchased, and you must be on the list in order to get in!

Admission is $100 per person and includes: private concert, heavy pupus catered by Nalu's South Shore Grill, 2 complimentary drinks (beer/wine), specialty desserts and more.
Mana'o Radio is a 501(c)(3) non-profit corporation. Tax ID # 31954. Your donation may be tax deductible as current laws allow.
Your support means the world to us and we can't wait to soirée with you in October. 100% of proceeds from the evening will benefit Maui's #1 radio listener-supported station, 91.7 fm KMNO Mana'o Radio. Click below to reserve your tickets and we'll see you at the party!