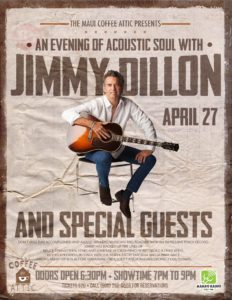 Make your plans to join Mana'o Radio, 91.7 FM, Maui, Hawaii on Saturday, April 27 at the Maui Coffee Attic for a special appearance by Jimmy Dillon!
Don't miss this accomplished and award-winning musician with an impressive record. Jimmy has backed up the likes of Bruce Springsteen, Sting, and John Lee Hooker. He has appeared on stage with B.B. King, Carlos Santana, and Bonnie Raitt, among many others before embarking on a solo career and recording 5 CDs to-date.
A portion of each ticket sold benefits Mana'o Radio!