Technical Issue on Maui Affecting Our Broadcasts
2019.06.13 11:45 AM
Mana'o Radio is currently experiencing technical difficulties with our broadcast at KMNO 91.7FM. This problem is being caused by an as-yet unidentified external source which is interfering with the quality of Mana'o Radio's FM broadcast signal as well as that of other Maui-based FM radio stations. We are diligently working to fix this issue as soon as possible. In the meantime, we encourage our listeners to access our Internet stream broadcast online using the live streaming links on this page.
Mahalo for your understanding and patience. ?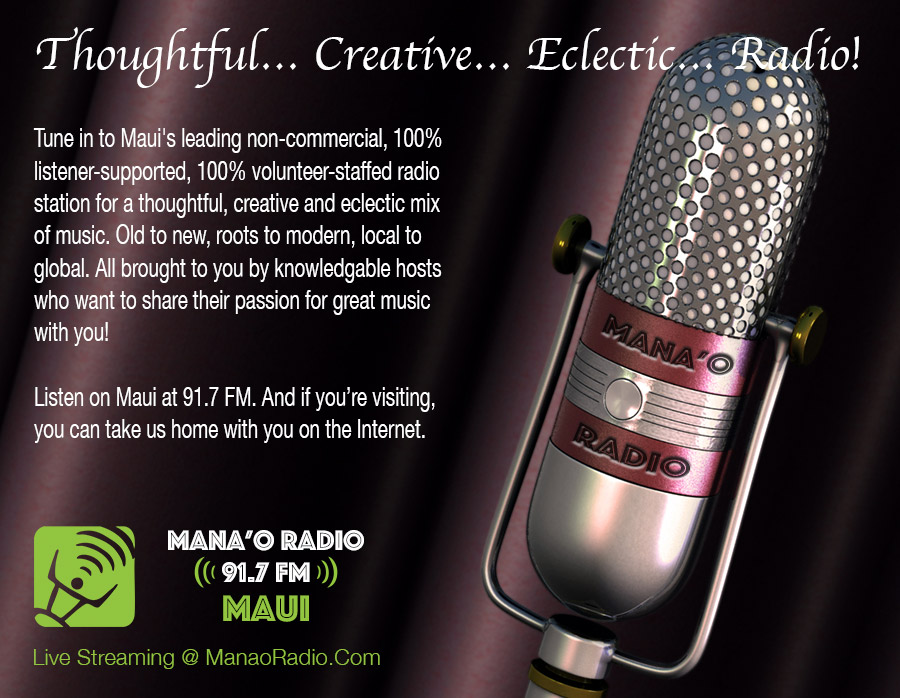 You have found Maui's leading non-commercial radio station, voted Best Local Radio Station on Maui in 2016 by MauiTime readers.
Mana'o Radio is better than ever in our mission to inform, educate, and entertain the Maui community on the FM airwaves, and the world via internet streaming. We offer a diverse musical selection showcasing local singers, songwriters, musicians, authors and various musical artists. We also report on local news, live entertainment and other events of interest to our local community. Mahalo for tuning in!