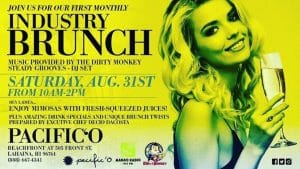 Saturday August 31st in Lahaina, find some weekend recovery at Pacific'o restaurant during their first monthly Industry Brunch.
Chef Dacosta will feature his unique twist on brunch paired with fresh juice mimosas and a live soundtrack provided by Mana'o Radio's own Steady Grooves. DJ BEYONZO will be spinning records from 10am-2pm laying down a breezy vibe for this beachfront locale, and a portion of the proceeds will benefit KMNO Mana'o Radio!
That's Industry Brunch on Saturday Aug 31st at Pacific'o restaurant, 505 Front Street Lahaina!